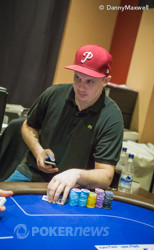 David Kitai led out for 8,500 on a flop of



. Paul Volpe, who started the day with the chip lead, made the call, and the turn brought a repeat four - the

.
Kitai reached for chips, then eventually fired 12,500. Volpe quickly called.
The river was a third four - the

- and Kitai slowed down, checking for the first time. Volpe reached for blue T5,000 chips, added a few black T100 chips, then tossed forward a bet while simultaneously announcing, "Twenty-seven two."
Kitai looked at the 27,200-chip bet, then turned his attention Volpe. Volpe sat silently, with his right hand capping his cards and his left hand shuffling a handful of chips. Kitai continued to stare at his opponent, breaking his gaze only to count his own chips, then finally folded.
Paul Volpe

290,000
51,000

Davidi Kitai

Winamax Sponsored Pro

115,000
-56,700