С подкрепата на:

Event Info
| | |
| --- | --- |
| Награден фонд | $10,890,000 |
| Players | 1089 |
Ниво
| | |
| --- | --- |
| Ниво | 43 |
| Блайндове | 500,000 / 1,000,000 |
| Анте | 125,000 |
Играчи - Ден 3
| | |
| --- | --- |
| Оставащи играчи | 1 |
| Entries | 9 |
GGSF Super MILLION$ ME-H: $10,300, $10M GTD
Ден 3 Приключил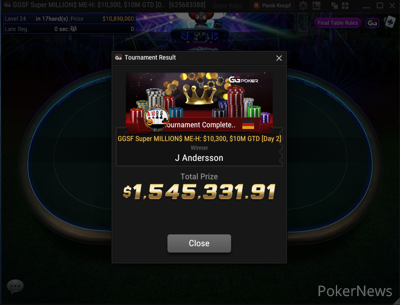 The two biggest individual prizes during the ongoing 2021 GG Spring Festival have been awarded and a winner has been crowned in the record-breaking GGSF Super MILLION$ ME-H: $10,300. The biggest edition of the weekly high-stakes showdown on GGPoker drew a staggering 1,089 entries and 125 players earned a share of the $10,890,000 prize pool. When the dust had settled, it was Joakim Andersson who earned another Super MILLION$ victory.
The Swede has been a fixture in the High Roller Events on the fastest-growing online poker site for the last few months. He prevailed in a short-lived heads-up duel against Julian Stuer, banking the top prize of $1,537,605. It only took him just over two and a half hours to get the job done, and he knocked out six opponents on the way. Runner-up Stuer was responsible for the other two eliminations and collected $1,185,655 for the efforts.
Darrell Goh finished in third while Stevan "Steve Austin" Chew turned a satellite win into a handsome six-figure payday in fourth place. Among the other finalists were also Taylor Paur and Alex Foxen, who became the first two casualties of the final day.
Final Result 2021 GGSF Super MILLION$ ME-H: $10,300
| Place | Winner | Country | Prize (in USD) |
| --- | --- | --- | --- |
| 1 | Joakim Andersson | Sweden | $1,537,605 |
| 2 | Julian Stuer | Austria | $1,185,655 |
| 3 | Darrell Goh | Austria | $914,266 |
| 4 | Stevan "Steve Austin" Chew | Australia | $704,996 |
| 5 | level29 | India | $543,626 |
| 6 | Gergely "Land on it!" Kulcsar | Hungary | $419,193 |
| 7 | Roman "RRomashka" Emelyanov | Russia | $323,242 |
| 8 | Alex Foxen | United States | $249,253 |
| 9 | Taylor Paur | United States | $192,201 |
Andersson Cruises to Victory
Andersson started the day as the only player above 100 blinds and second in chips was India's "level29", while Stuer sat in third place with 53 blinds. It didn't take long for the first player to bust as Andersson knocked out Taylor Paur in the fourth hand of the final table. The always dangerous Alex Foxen also sent over his chips to Andersson when ace-ten suited picked up no help versus pocket fives.
It was no smooth ride for Andersson from there on as he dashed out several double-ups. Gergely "Land on it!" Kulcsar survived three times and Stuer also doubled through the Swede. Roman "RRomashka" Emelyanov then lost his chips to Stuer and Kulcsar followed suit to propel Stuer into the lead.
However, Andersson struck back with heaps of aggression and assumed control. His first victim was "level29" who found no help with a dominated pocket pair and Stevan "Steve Austin" Chew was unable to crack pocket kings with king-seven. The lead of Andersson became overwhelming and one double up each for Darrell Goh and Stuer were just minor setbacks on the road to victory.
There simply was no stopping for the Swede, who earned his biggest payday on GGPoker so far and boosted his cashes to nearly $5.3 million.
That wraps up the PokerNews coverage of the biggest Super MILLION$ to date but there are further GG Spring Festival events running right now, for which exclusive live updates are provided.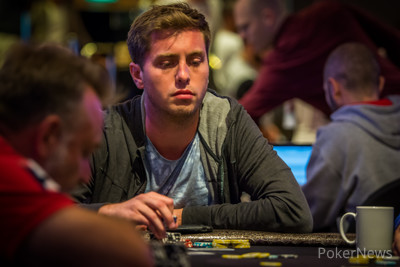 Joakim Andersson moved all-in from the button with his extraordinary lead and Julian Stuer called it off for the 6,507,884 he had behind.
Julian Stuer:



Joakim Andersson:


Stuer had found an ace once again when facing the open jam and remained ahead on the



flop. The

turn was no threat either but Andersson spiked a pair with the

river. Stuer's run comes to an end in second place, which comes with a massive consolation prize of $1,185,655.
Andersson bags yet another Super MILLION$ title and this one comes with a huge payday of $1,537,605. A recap of today's action is to follow.
Joakim Andersson limped the small blind and Julian Stuer checked. They checked the



flop and Stuer check-called a min-bet on the

turn. After the

river, Stuer check-called for 3,825,000 with the


for two pair but Andersson had the flush with


.
Julian Stuer dropped below seven blinds and then earned a walk. He jammed for 7,366,442 in the final hand of the level and Joakim Andersson called.
Julian Stuer:



Joakim Andersson:

The pocket pair prevailed thanks to a board of





but Stuer remains at a severe chip disadvantage.
Joakim Andersson won five of the first seven hands in heads-up, none of which featured any showdown. He then limped the button and Julian Stuer raised to 3 million, Andersson matched that after a few seconds. The



flop was checked by both and Stuer also checked the

turn.
Andersson made it 2,062,500 to go and that ended the hand right there in his favor.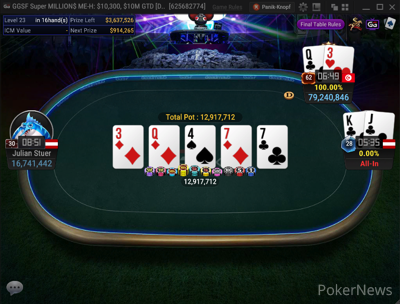 Joakim Andersson used his massive chip advantage and simply open-shoved from the button. Darrell Goh in the small blind gave it some consideration and called it off for shy of 5.3 big blinds, Julian Stuer folded in the big blind.
Darrell Goh:



Joakim Andersson:


The



flop gave Andersson two pair and the

turn left Goh drawing dead, which made the

river a formality. Goh walks away with a payday of $914,266.
Joakim Andersson min-raised the button to 2 million and was called by Julian Stuer. On the



flop, Stuer elected to check-call for 1.17 million and that was it for the hand. The

turn and
river were checked. Stuer showed


but Andersson had the


for the win.
| | | | | | |
| --- | --- | --- | --- | --- | --- |
| Joakim Andersson | | | | 83,137,202 | 5,170,000 |
| Julian Stuer | | | | 18,616,442 | -3,420,000 |
| Darrell Goh | | | | 7,146,356 | -1,750,000 |
Ниво:

43
Блайндове:

500,000/1,000,000
Анте:

125,000
Joakim Andersson made it 2.16 million to go from the small blind and Darrell Goh came along out of the big blind. Andersson bet the



flop for 1,108,500 and Goh folded.
| | | | | | |
| --- | --- | --- | --- | --- | --- |
| Joakim Andersson | | | | 77,967,202 | 4,860,000 |
| Julian Stuer | | | | 22,036,442 | -2,900,000 |
| Darrell Goh | | | | 8,896,356 | -1,960,000 |