€1,600 NLH Progressive Bounty 8-Max
Event Info
| | |
| --- | --- |
| Награден фонд | €127,070 |
| Players | 131 |
Ниво
| | |
| --- | --- |
| Ниво | 27 |
| Блайндове | 20,000 / 40,000 |
| Анте | 5,000 |
€1,600 NLH Progressive Bounty 8-Max
Ден 2 Приключил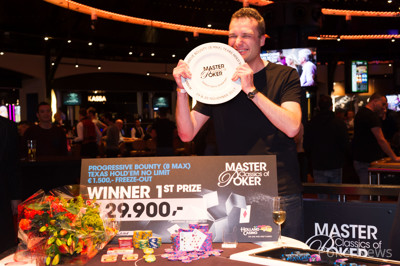 Day 2 of the inaugural Progressive Bounty event at the Master Classics of Poker saw 27 players return while only 17 would cash. After some 14 hours of play, a champion was crowned just before casino closing time. Maik de Rijk, a long-time regular at the Amsterdam poker series, grabbed the coveted plate after a rollercoaster of a day.
With 10 players to the money, play started out relatively loose. Henok Tekle Mariam was out before some players had seen a blind and MCOP champions Tonny van Eck and Hakim Zoufri departed well before the money as well. While not all left empty-handed, since some had gathered some bounty money before busting, the real money started coming in for the Top 17.
Holland Casino regular Dennis Lavrijsen and MCOP side event winners Bartel Kars and Doug Roberts both hit the rail shortly after Eric Mooij bubble the event.
From there, it was a short ride to the official final table of 8 with [Removed:155] the first to depart. He got it in with ace-king against ace-queen and jacks and saw Van Boxtel hit a queen to scoop the big pot.
Andre Otten was next to go, gifting his chips to Tonny Krijn who secured the chip lead doing so. Otten's ten-nine suited outflopped Krijn's ace-king but a king on the river set things straight and Otten left in 7th place.
It would take a level and a half for the next player to go, and it was the last German player Pascal Pflock to be the unlucky one. He found himself all in holding ace-five to Bob Janssens's pocket tens and found no help on the flop, turn, or river.
Spel Sah Hwan followed him out the doer, pushing with second pair into Janssens' top pair on a flop of ace-queen-four. Janssens faded some outs to make play 4-handed.
While Raul van Boxtel doubled with quads first, the likable hometown player was next to go anyway. He got short and called all in with jack-three suited and turned out to be up against four-seven suited. A seven on the river ousted Van Boxtel who had to settle for €20,267.
Fan-favorite Tonny Krijn bowed out in 3rd place, losing a flip to Bob Janssens. Janssens flopped top-two and rivered a boat with queen-eight to crush Krijn's deuces.
With play now heads up, the stakes were high. Both players had a hefty bounty on their head, with the biggest one belonging to Bob Janssens who had knocked out his fair share of players throughout the event. While all had started with a €500 bounty on their head, both were worth a multitude of that by the time only they were left. While there was a lot to play for, the structure didn't give them a lot of wiggle room. Janssens started out with the lead but as he missed with a combo draw he all of the sudden found himself out chipped.
The next hand, Janssens got it in with tens to Maik de Rijk's nines and flopped a set. De Rijk, however, would make runner runner straight to claim the title. After playing at the Master Classics of Poker for 10 years in a row, making 3 final tables and finishing runner-up once, now De Rijk was the one lifting the plate, the traditional trophy only the MCOP awards to their winners.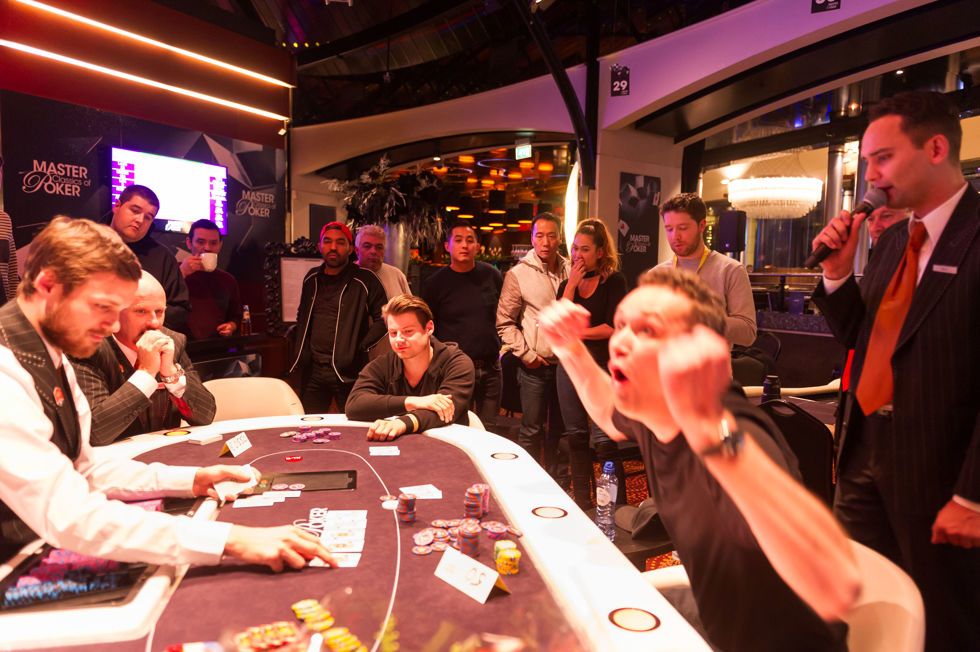 | Position | Player | Country | Prize |
| --- | --- | --- | --- |
| 1 | Maik de Rijk | Netherlands | €29,900 |
| 2 | Bob Janssens | Netherlands | €19,937 |
| 3 | Tonny Krijn | Netherlands | €13,978 |
| 4 | Raul van Boxtel | Netherlands | €10,267 |
| 5 | Spel Sah Hwan | Netherlands | €7,878 |
| 6 | Pascal Pflock | Germany | €6,265 |
| 7 | Andre Otten | Netherlands | €5,146 |
| 8 | [Removed:155] | Netherlands | €4,333 |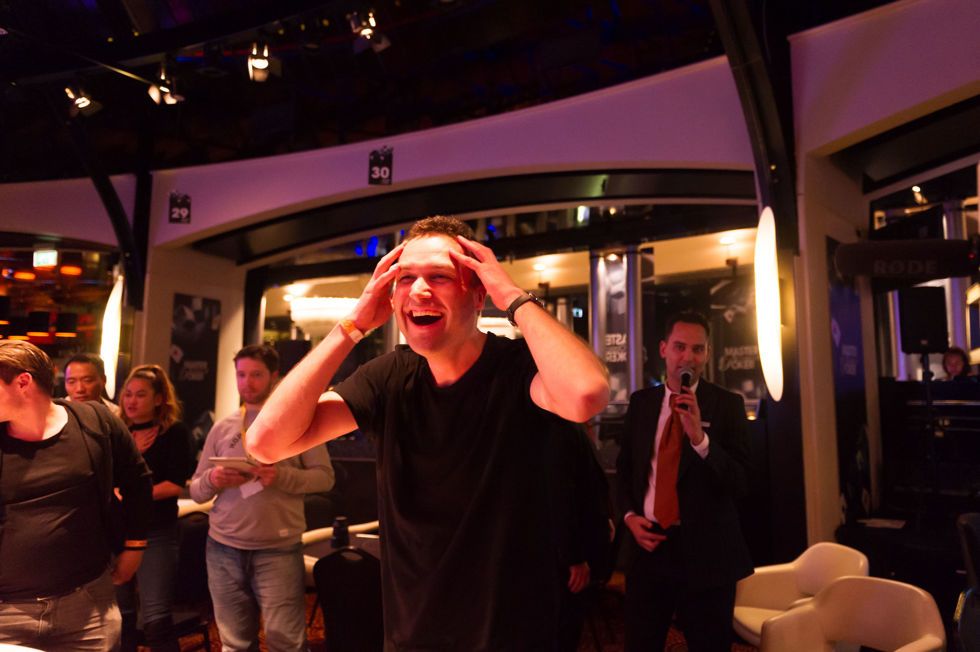 Next up is the Main Event which will run through Friday. PokerNews.com will be on site to cover that prestigious event as well, so keep it here for all your updates from the Dutch capital.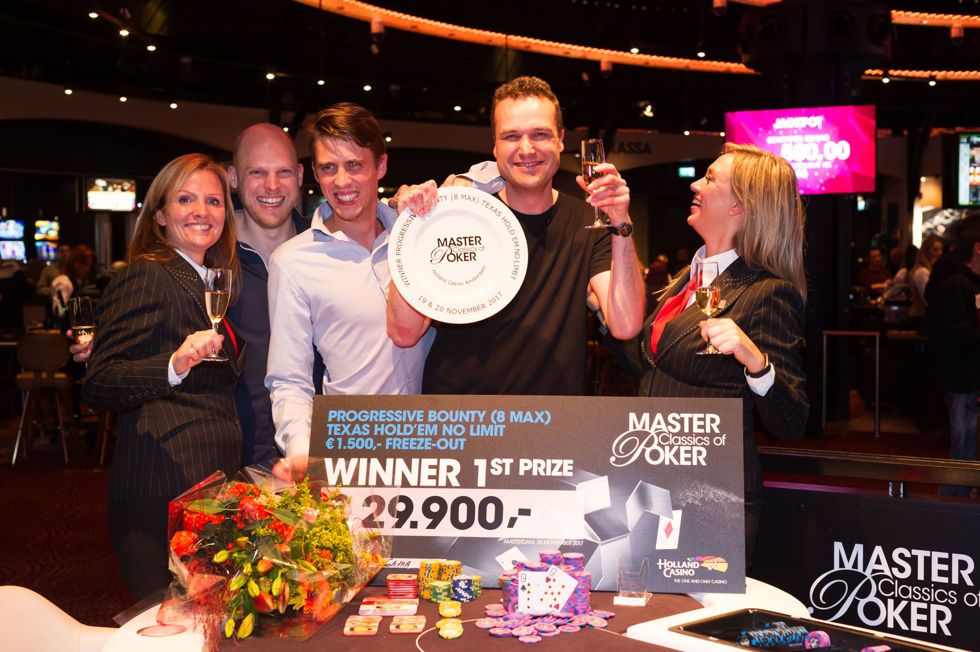 Photos by Sonja Bruin, Holland Casino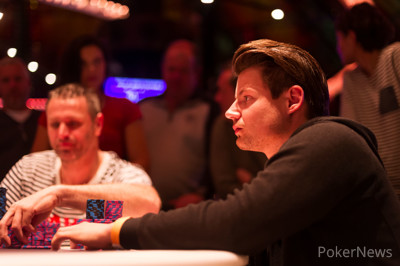 Maik de Rijk and Bob Janssens got it in on a flop of


. De Rijk was in front with


but Janssens had a ton of outs with


.
Neither the
on the turn nor the

on the river helped Janssens and De Rijk scooped the majority of all the chips in play.
The next hand, De Rijk shoved the button and Janssens called instantly.
Maik de Rijk:



Bob Janssens:


Janssens flopped a set on



, but the

on the turn and

on the river made De Rijk a straight and just like that, only half an hour before the casino would close, the tournament was over.
In the first hand of heads-up play, Bob Janssens shoved the button. Maik de Rijk called instantly.
Maik de Rijk:



Bob Janssens:


The board came




and De Rijk doubled.
| Seat | Player | Chip Count | Big Blinds | Bounty |
| --- | --- | --- | --- | --- |
| 1 | Bob Janssens | 1,960,000 | 39 | €8,550 |
| 2 | Maik de Rijk | 660,000 | 13 | €3,180 |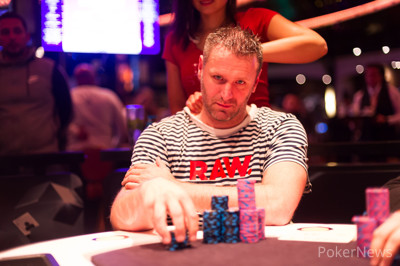 Bob Janssens shoved the button and the small blind instantly folded. Big blind Tonny Krijn called rather quickly for his last 600,000 or so.
Bob Janssens:


Tonny Krijn:


The board ran out



and Krijn shook hands with both Janssens as De Rijk. His €7,070 bounty went to Janssens who's now worth €8,550 himself.
Blinds now at 25,000 and 50,000, ante 5,000.
Small blind Bob Janssens shoved all in for 500,000 exactly. Big blind Maik de Rijk called.
Maik de Rijk:



Bob Janssens:


Thenboard came





and Janssens doubled into the lead.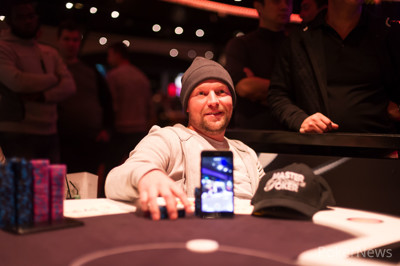 Action folded to Maik de Rijk in the small blind and he shoved all in. Raul van Boxtel, down to about 200,000 or so it looked like, snap-called.
Maik de Rijk:



Raul van Boxtel:


The board ran out




and with the river seven, Van Boxtel made his exit. His €2,990 bounty went to Maik de Rijk.
The remaining 3 players are guaranteed €13,978 from here on out.
Ниво:

27
Блайндове:

20,000/40,000
Анте:

5,000