Event Info
| | |
| --- | --- |
| Вход | €25,000 |
| Награден фонд | €641,250 |
| Players | 27 |
Ниво
| | |
| --- | --- |
| Ниво | 21 |
| Блайндове | 0 / 0 |
| Анте | 0 |
Triton Short Deck
Ден 2 Приключил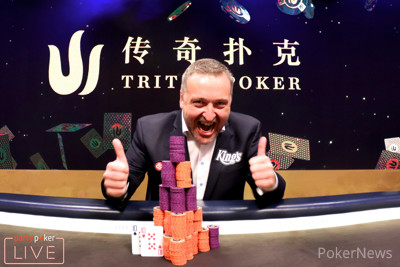 It took a few more heads-up hands than he would have liked, but popular poker personality Tony G prevailed as the champion of the €25,000 Triton Short Deck event at partypoker LIVE MILLIONS Europe.
Tony G outlasted runner-up Yake Wu in a heads-up battle that saw Wu come from behind in several improbable runouts to prolong the match. In the end, however, Tony G rode his big stack all the way to the win and the €237,250 ($264,308) payout.
A pair of late hands saw Tony G holding on to major equity, having Wu one card away from elimination. In one such hand, Wu hit a full house on the turn after Tony G had flopped trips. A few hands later, Tony G's pocket jacks were well ahead, until a river ten brought trips and new life for Wu.
The final hand saw Tony G's pocket tens go against Wu's ace-jack preflop, and this time, Wu couldn't find a way to survive. Wu took home €163,000 for his runner-up finish.
"It's happened in so many tournaments where it looks like I've got everything, and I'm just missing one card," said Tony G. "I was getting nervous there, but luckily the tens held up."
Final Table Results
| Place | Winner | Country | Prize (USD) |
| --- | --- | --- | --- |
| 1 | Tony G | Lithuania | €237,250 |
| 2 | Yake Wu | China | €163,000 |
| 3 | Leon Tsoukernik | Czech Republic | €104,500 |
| 4 | Cary Katz | United States | €75,500 |
| 5 | Choon Tong Siow | Malaysia | €61,000 |
Personalities at the Final Table
Tony G emerged as the champion from a final table packed with some of poker's biggest personalities. Triton Poker founder Paul Phua was the first to go out in seventh place. PokerGo founder Cary Katz finished fourth, taking home €75,500, and King's Resort owner Leon Tsoukernik took third for a €104,500 payday.
Other final table finishers included Liang Yu, who was knocked out on the money bubble in sixth place, and Choon Tong Siow, who took fifth place for a €61,000 cash prize.
"They're great players," Tony G said of the final table combatants. "If you look at Paul Phua, he's made every final table last five [tournaments]. Leon's a great player too. He's got a lot of ability and he was really focused."
The final table lasted through Level 23, the eleventh level of the day, before Tony G clinched the championship.
Tony G's Big Win
The victory gave Tony G his first tournament victory since 2017. He entered the final table with a sizeable chip lead, and by the time the tournament played down to the final four participants, he had double the chips of his next closest competitor, which at the time was Wu.
"My game is to get a big stack, so I need a little bit of luck just to get a big stack," Tony G explained. "Then I just run over the table. Then I can bluff and I feel very confident."
He continued: "Whenever I'm a big stack, I'm a big chance to win, and I've won so many tournaments. But it's always been with a big stack. I'm not a short stack guy."
After the Triton Short Deck win, Tony G feels like he's back as a force to be reckoned with in poker.
"I guess I'm going to keep studying the game now and see if I can take on the best players in the future," he said. "My game is behind at the moment because I've been in politics for five years. I'm dedicated to serving my country, but now I'm back in poker and enjoying life again."
PokerNews coverage of the 2019 partypoker LIVE MILLIONS Europe continues with live updates from the Main Event, which you can follow here.
Be sure to check out continuing coverage of partypoker LIVE MILLIONS Europe on PokerGO.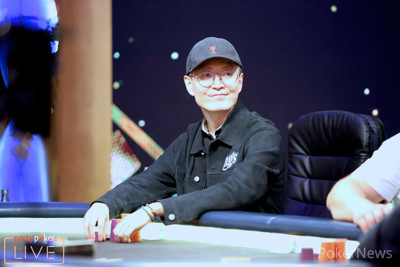 After surviving at least four heads-up all ins, Yake Wu once again found himself in an all-in situation preflop against Tony G. Wu had 2,400,000 to start the hand, against 5,700,000 for Tony G.
Yake Wu:



Tony G:


Board:





Tony G asked for the runout to hold up one time after the turn left Wu drawing thin to an ace. The

gave Tony G the full house, and Yake Wu takes second place.
| | | | | | |
| --- | --- | --- | --- | --- | --- |
| Tony G | | | | 8,100,000 | 2,400,000 |
| Yake Wu | | | | Отпаднал | |
Ниво: 21
60,000 ante/120,000 button ante
Yake Wu has survived four all-ins against Tony G, the latest coming when Tony G went all in preflop, and Wu called.
Yake Wu:


Tony G:


Board:





The runout looked like it would clinch the win for Tony G, until the river

arrived to give Wu trips.
| | | | | | |
| --- | --- | --- | --- | --- | --- |
| Tony G | | | | 5,700,000 | 790,000 |
| Yake Wu | | | | 2,400,000 | -790,000 |
Tony G went all in preflop, and Yake Wu called for his last 600,000 chips.
Yake Wu:



Tony G:


The flop put Tony G far ahead, coming out



. The turn, however, brought in a full house for Wu, as the

hit the board.
Tony G improved to his own full house on the river, as the

hit the board. Tony G's sevens full weren't enough, however, as Wu's eights full were good for the win.
| | | | | | |
| --- | --- | --- | --- | --- | --- |
| Tony G | | | | 6,900,000 | 1,990,000 |
| Yake Wu | | | | 1,200,000 | -1,990,000 |
Ниво: 20
50,000 ante/100,000 button ante
Wake Yu limped, Tony G raised to 175,000, and Yu called.
The flop came



, and Tony G bet 225,000. Yu reraised all in, sending Tony G into the tank.
After a couple of minutes of consideration, Tony G folded, telling Yu he held the

but still had to fold.
| | | | | | |
| --- | --- | --- | --- | --- | --- |
| Tony G | | | | 4,910,000 | -1,220,000 |
| Yake Wu | | | | 3,190,000 | 1,220,000 |
In a limped pot, Tony G bet 100,000 on a



flop, and Yake Wu called.
Tony G continued for 325,000 on the

turn, and Yu folded.
| | | | | | |
| --- | --- | --- | --- | --- | --- |
| Tony G | | | | 6,130,000 | 80,000 |
| Yake Wu | | | | 1,970,000 | -80,000 |
Ниво: 19
40,000 ante/80,000 button ante