С подкрепата на:

Event Info
| | |
| --- | --- |
| Награден фонд | €486,940 |
| Players | 502 |
Ниво
| | |
| --- | --- |
| Ниво | 31 |
| Блайндове | 125,000 / 250,000 |
| Анте | 25,000 |
Main Event
Ден 3 Приключил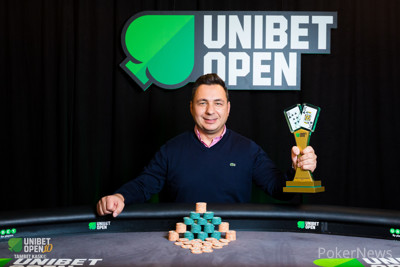 The 10-year anniversary edition of the Unibet Open has crowned a champion in the €1,100 Main Event and it was Marius Pertea who defeated Robert Vukovic in heads-up to ensure consecutive victories for Romanians in the Grand Ballroom of the luxurious JW Marriott Bucharest Grand Hotel.
Pertea followed in the footsteps of Traian Bostan to keep the trophy on home soil and become the third Romanian to win a Unibet Open Main Event title in ten seasons. Dan Murariu, who already has two titles and three further final table appearances on the very same tour to his name, made a deep run again and busted in 30th place.
The biggest cash to date for the 37 year old general manager from Buzau was an 11th place in the 2017 PokerStars Champion Monte-Carlo Main Event for €44,280 and he more than shattered that with the payday of €90,925. Having spent most of the final table with a short stack, Pertea went three times from almost zero to hero and lifted the trophy with a big smile on the face.
Thirty-one-year old Vukovic earned his entry to the Main Event through the loyalty program of Unibet Poker by mostly playing cash games and turned that into €56,500, his partner and young daughter were on the rail to follow the progress. It was the second-biggest score of Vukovic after a runner-up finish in the 2012 Eureka Prague Main Event for €75,000.
Fellow Croatian poker player Pavao Veža, who also made the trip to Bucharest after racking up enough points on the cash game tables on Unibet Poker, finished in third place for €38,965 and another online qualifier reached the final table in Bojan Zidar, who finished 5th for €22,200.
Three players from Israel, who had some 100 participants in the event, made it all the way to the last nine but came short of victory: Dor Lan (9th place for €9,100), Guy Ohayon (6th place for €17,080) and Avi Cohen (4th place for €28,860). The other finalists included Bogdan Ionescu (10th place for €7,920), Henrik Tellving (8th place for €10,930) and Christopher Heidelbacher (7th place for €13,665).
Final Result €1,100 Main Event
| Place | Winner | Country | Prize (in EUR) |
| --- | --- | --- | --- |
| 1 | Marius Pertea | Romania | €90,925 |
| 2 | Robert Vukovic | Croatia | €56,500 |
| 3 | Pavao Veza | Croatia | €38,965 |
| 4 | Avi Cohen | Israel | €28,860 |
| 5 | Bojan Zidar | Slovenia | €22,200 |
| 6 | Guy Ohayon | Israel | €17,080 |
| 7 | Christopher Heidelbacher | Romania | €13,665 |
| 8 | Henrik Tellving | Sweden | €10,930 |
| 9 | Dor Lan | Israel | €9,110 |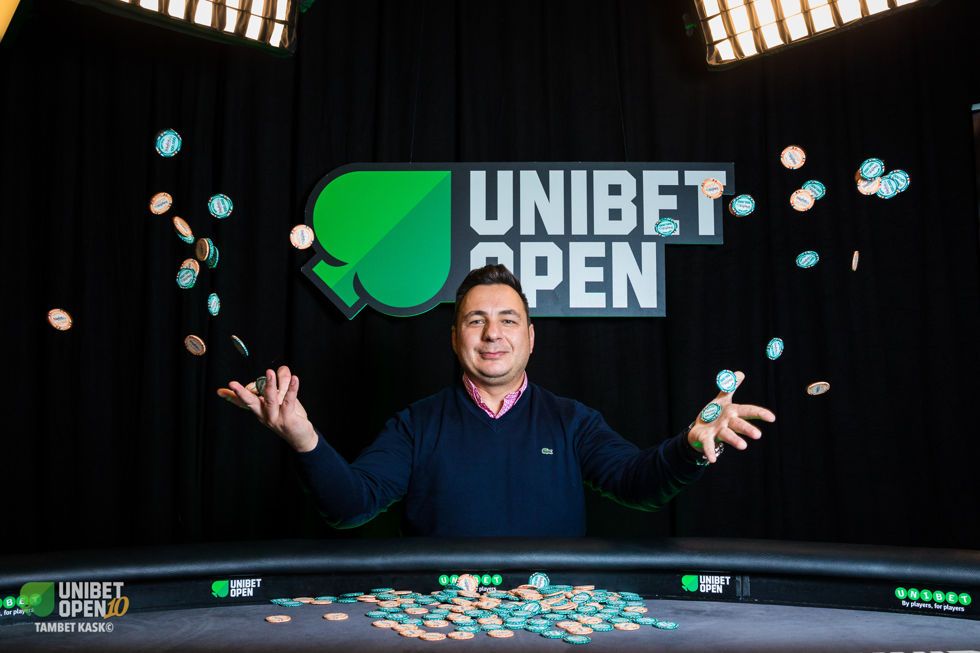 The 2017 Unibet Open Bucharest €1,100 Main Event to end season 10 saw a total of 502 entries and the top 71 players took home a share of the €486,940 prize pool. Among the players to cash were Ran Azor (70th place for €1,880), eSports Star Kevin "Papaplatte" Teller (66th place for €1,880), Tudor Purice (61st place for €2,105), Unibet Poker ambassador Dara O'Kearney (55th place for €2,105), Stephane Allard (45th place for €2,355), Eric Wasylenko (37th place for €2,640), two-time Unibet Open champion Dan Murariu (30th place for €3,310), Jean-Serge Baril (18th place for €4,650), Yasen Dichev (14th place for €5,990), and Tom Vogelsang (11th place for €7,405).
Other highlights of the festival included a €2,200 High Roller, in which Dutchman Olvedo Heinze emerged victorious in heads-up against Katsuhiro Muto. Heinze, who entered the final table as the chip leader, took home the lion's share of the €192,060 prize pool in a field of 99 entries. Others who cashed included Mateusz Moolhuizen, Unibet Ambassador Dara O'Kearney and Romania's Dan Chisu.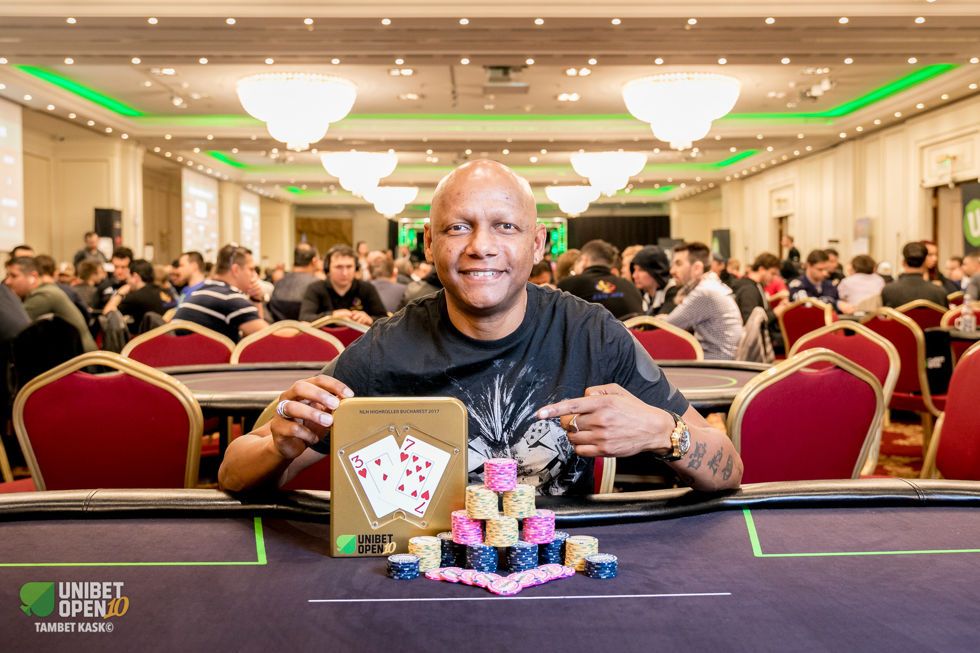 The nine-handed eSports Battle Royale VII was won by Fredrik "dbergie" Bergmann, who took home €5,000. Thijs "Thijs" Molendijk finished 2nd for €3,000 and Andrey "reynad" Yanyuk took third for €2,000.
Adrian Constantin came out on top of the 433-entry strong €150 Monsterstack after cutting a deal three-way deal with fellow Romanians Dumitru Adrian Pora and Alexandru Farcasanu, and each of them took home €8,094.
The Ladies Event hosted by Unibet Poker ambassador Daiva Byrne was won by Carmen Zainescu, while Sweden's Linus Hjulström won the €200 NLH 6-Max for €6,485 after beating a 125-entry field. Back in 2013, Hjulström finished runner-up to Quentin Lecomte in the Unibet Open Cannes Main Event.
Action of the €1,100 Main Event Final Day
The ten remaining players returned to the same seats as they bagged up with the previous night and it took 40 minutes to reached the official nine-handed final table. It was Bogdan Ionescu who missed out on the group shot over on the feature table after losing a flip with ace-king against the pocket nines of fellow countryman Christopher Heidelbacher.
Dor Lan started well on the final table and managed to bump up his stack with several all in moves. One of them came at the worst possible time, though, when he jammed for more than 30 big blinds with pocket nines and Robert Vukovic in the small blind called with pocket aces. Another ace on the turn left Lan drawing dead and Vukovic went from shortest stack with nine left to the top spot.
Henrik Tellving slowly but surely lost most of his chips and eventually three-bet all in with an ace-trey off suit out of the big blind. Robert Vukovic called with jack-ten suited and flopped a pair, turned two pair and that left Tellving drawing dead in 8th place.
Christopher Heidelbacher three-bet shoved for 20 big blinds out of the small blind with king-ten suited and Avi Cohen looked him up with pocket nines. An ace-high board provided no help for the Romanian and he was eliminated in 7th place as a result.
Next on the list of casualties was Guy Ohayon, who four-bet all in with king-jack suited and Robert Vukovic snap-called with pocket aces. Ohayon picked up some hope with a jack on the flop, but an ace followed right away on the turn and that was it.
Only a few moments later, Ohayon was joined at the payout desk by 26-year-old student Bojan Zidar. Robert Vukovic picked up a second premium hand in consecutive hands and sent Zidar to the rail with pocket jacks versus pocket nines.
Four-handed play lasted for quite some time and Avi Cohen was on top of the counts almost exclusively. However, that changed when Pavao Veza doubled through him and Cohen would join the rail a few hands later. He shoved from the small blind with ace-eight and Marius Pertea snap-called with ace-queen to immediately connect with a queen on the flop.
Pavao Veza's second shove in quick succession with the king-queen was called by fellow Croatian Robert Vukovic with ace-six. Ace-high ended up as the winning hand after the ten-high board and Vukovic entered heads-up with a narrow lead, declining a possible deal before cards went back in the air.
What followed was a roller coaster of emotions for both Robert Vukovic and local crowd favorite Marius Pertea. Vukovic had all but locked up the victory when he doubled into a commanding lead with ace-six suited versus king-queen, but back-to-back doubles in the next two hands brought the stacks back to even. Eventually the stack of the Croatian plummeted and his triple barrel bluff with ace-queen for a busted gutshot went wrong as Pertea called with king-six suited for flopped two pair to let the Romanian rail erupt in applause.
This marks the end of the PokerNews coverage here in Bucharest and the Unibet Open have confirmed their next stop from February 22nd to 25th 2018 in London, online satellites are expected to begin soon via Unibet Poker.
All pictures are courtesy of Tambet Kask and the Unibet Open.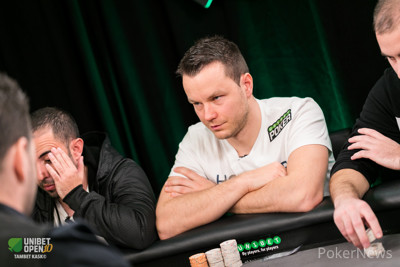 Robert Vukovic raised to 625,000 with the


and Marius Pertea called with


to see the flop of



and Pertea checked. Vukovic made it 400,000 to go and Pertea gave him a brief stare before making the call.
On the

turn, Pertea checked once more and Vukovic bet 1.1 million, which Pertea again called.
The

fell on the river and Pertea checked the third street in a row. Vukovic emptied the clip by moving all in for around 2.8 million and Pertea quickly called and a gutted Vukovic turned over his ace-high bluff while Pertea turned over the two pair and started celebration with a big smile on the face.
Vukovic was eliminated in 2nd place for €56,500 after having declined a deal prior to the start of the heads-up. Pertea claimed back-to-back Romanian titles for the Unibet Open Main Event in Bucharest and takes home the trophy and a firs-place payout of €90,925.
A recap of today's action is to follow.
Ниво:

31
Блайндове:

125,000/250,000
Анте:

25,000
Robert Vukovic raised to 450,000 with the

and quickly folded to a three-bet by Marius Pertea, who held the


.
Vukovic raised to 450,000 with the


and Pertea called with the


. The flop fell



and a check and a continuation bet was all it took to end the hand.
Soon after both players picked up an ace, but Pertea flopped best with


versus


after hitting a jack for second pair to claim another small pot.
Vukovic raised to 450,000 with the

and Pertea three-bet to 1.1 million with


. Right after the blinds went up
Marius Pertea raised it up with the


and Robert Vukovic called with


. The duo checked the



flop and the

fell on the turn. Vukovic bet 700,000 and Pertea double-checked his cards before making the call.
On the

river, Vukovic checked his trips and Pertea bet 850,000 and Vukovic called to win a bigger pot.
Pertea raised to 500,000 with


and Vukovic called with


. On a flop of



, a continuation bet did the trick for Pertea.
Pertea raised to 500,000 with


and Vukovic three-bet to 1.4 million with


, Pertea quickly called. The flop fell

and Vukovic took another shot at the pot with a bet of 1.0 million, picking up a reluctant call by Pertea.
The

appeared on the turn and Vukovic checked, which prompted 1.3 million into a pot of almost 4.8 million. That was enough to shut down the action and the swing went back to Pertea, who took a 10 big blind lead.
Marius Pertea moved all in for 1.5 million and Robert Vukovic called.
Marius Pertea:


Robert Vukovic:


The board came





and the Romanian doubled much to the applause of his local rail.
In the next hand, Vukovic raised to 1.7 million and called the shove of Pertea for 18 big blinds.
Marius Pertea:


Robert Vukovic:


The board ran out




and Pertea doubled back into an even stack within two hands.
Marius Pertea raised to 500,000 with the


and Robert Vukovic called with the


. On a flop of



both checked and the

on the turn was checked by Vukovic also.
Pertea checked behind and the

on the river saw Vukovic double-check his cards and check, Pertea checked behind and won the pot with his ace-high.
Soon after the fireworks started and the first all in and call in heads-up took place.
Vukovic raised to 450,000 with the


and Pertea three-bet to 1.3 million with


. Vukovic moved all in for 6.8 million and Pertea called.
The





board let Vukovic double into a commanding lead.
Robert Vukovic bet the


flop for 300,000 with the


and Marius Pertea check-raised to 850,000 with


. Vukovic called and the

appeared on the turn. Pertea bet for 700,000 and Vukovic raised it up to 1.7 million.
Pertea double-checked his cards and let them go.