Event #41: $1,500 Limit Hold'em Shootout
Ден 1 Приключил
Ricky Fohrenbach

41,500

Kirill Rabtsov

41,500

Victor Ramdin

PokerStars Team Pro (USA)

41,500

Al Riccobono

41,500

Mark Rumbaugh

41,500

Jordan Rich

41,500

Randy Propson

41,500

Leonardo Fernandez

41,500

Brock Parker

41,500

Matthew Elsby

41,500

Ari Engel

41,500

Justin Pechie

41,500

Ha Pham

41,500

Brian Faber

41,500

Sergey Rybachenko

41,500

Matthew Schreiber

41,500

Harrison Wilder

41,500

Richard Walter

41,500

Jason Wilson

41,500

Todd Witteles

41,500

Ben Yu

41,500

Christopher Woodbury

41,500

Adam Tyburski

41,500

Yegor Tsurikov

41,500

Jeff Siegal

41,500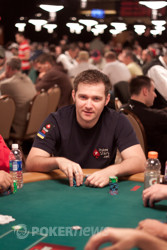 We started Day 1 of Event #41 with 538 players and now we are down to 60. All of the remaining players are guaranteed $4,118, but all have their eyes on the first-prize $167,060 and of course, the shiny gold bracelet.
Tomorrow, there will be 10 six-handed tables that play down to our final table of 10. We started with an extremely stacked field including, Tom Dwan, Eric Baldwin, J.C. Tran, David Benyamine, Todd Brunson, Greg Mueller, Jean-Robert Bellande, Chau Giang, Sorel Mizzi, Jason Mercier, Jason Somerville, Lex Veldhuis, Humberto Brenes, Jonathan Little, and Barry Greenstein, all of whom did not make it.
Of those who won their tables and are still in contention for the bracelet and first prize money are Noah Boeken, Hoyt Corkins, Ari Engel, Jacobo Fernandez, and Sergey Rybachenko. Also included are Team PokerStars Pros Eugene Katchalov (Ukraine) and Victor Ramdin (USA) who both came back from 20-1 chip defects in heads-up play to take down their tables and make it to Day 2.
Be sure to check in at 2:30 p.m. PST where our coverage will resume and we will play down to our ten-handed final table.
Dwyte Pilgrim raised, Yegor Tsurikov re-raised, and Pilgrim called. Pilgrim called a bet from Tsurikov on the flop, turn and river with the board ending up





. Tsurikov showed the


which was good and Pilgrim was left with 7,000.
Shortly thereafter Pilgrim got the last of his chips in on a board reading




. Tsurikov showed


for king high which was good enough and Pilgrim was the last player eliminated in round one.
| | | | | | |
| --- | --- | --- | --- | --- | --- |
| Yegor Tsurikov | | | | 41,500 | |
| Dwyte Pilgrim | | | | Отпаднал | |
Thomas Schulze and his opponent got it all in on the turn with the board reading




, Schulze showing


and his opponent showing


. The river was a

and Schulze won the second to last table of the day.
There are only two tables left playing heads up. Dwyte Pilgrim is one of the players remaining. We don't expect play to last too much longer on either table, but you never know!
Ниво:

10
Блайндове:

800/1,500
Анте:

0
Our remaining heads up tables are now on a 20 minute break.
Ray Henson raised and Todd Witteles called. After the flop came



, Witteles checked to Henson who bet. Witteles then raised and Henson called. The turn brought the

and Witteles bet and Henson called. The river was the

and both players checked.
Witteles showed the


for a ten-high flush and Henson was left with only 1,200 in chips.
Henson got the remainder of his chips in shortly thereafter holding the


against Witteles'


. The board ran out




and Witteles' pair of tens was best eliminating Henson.
Witteles is now moving on to round two!
| | | | | | |
| --- | --- | --- | --- | --- | --- |
| Todd Witteles | | | | 41,500 | |
| Ray Henson | | | | Отпаднал | |
On a




board we found Ivo Donev's opponent three betting all in, and Donev calling. Donev held


while his opponent had


. The river brought the

and gave Donev two pair for the victory.
| | | | | | |
| --- | --- | --- | --- | --- | --- |
| Ivo Donev | | | | 41,500 | |