Event #41: $1,500 Limit Hold'em Shootout
Ден 2 Приключил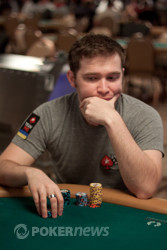 Day 2 of the $1,500 Limit Shootout event closed out with ten winners advancing to the final table for Day 3. Sixty players took their seat across ten six-handed tables and it took eight levels for all the tables to finish.
Advancing to Day 3 are recent bracelet winner Eugene Katchalov, Dom Denotaristefani, Mathieu Jacqmin, Jordan Rich, Stephen Bass, Christoph Kwon, Justin Pechie, Dale Eberle, Adam Tyburski and Ari Engel.
Katchalov will be going for his second bracelet of the series. He would be the first this year to walk away with two. Based on experience and equal starting stacks Katchalov looks to be the odds on favorite to take down the table.
Those that played today and didn't move on were Noah Boeken, Brock Parker, Noah Boeken, Hoyt Corkins, Victor Ramdin, Al "Sugarbear" Barbieri, Randy Lew, Bryan Huang, Jameson Painter and Todd Witteles.
Hal Lubarsky come close to becoming the first visually impaired player to make a WSOP final table. He fell just short after getting heads up with Engel, but could not press through Engel's chip advantage.
The final table of ten players will get underway at 2:30 p.m. PST at one of the feature tables. Follow all the WSOP action live on Pokernews.com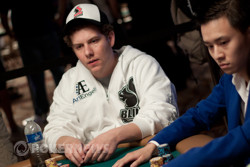 Hal Lubarsky, the first blind man to ever cash in a WSOP event, has been eliminated in heads-up play by Ari Engel.
Engel kept putting the pressure on Lubarsky and that with a mixture of a few big pots late had Lubarsky down to just 14,000 at the start of Level 18.
In the last hand, Lubarsky raised it up on the button and Engel called.
The flop came



and Engel put Lubarsky all in. Engel said, "I flopped the flush" showing


Lubarsky replied, "Well...I'm drawing" and he flipped over


for two pair.
The turn and river came

and

and Lubarsky did not improve and was subsequently eliminated in second place.
Engel wins the last heads-up match of the day and fills out our final table of 10 players who will come back tomorrow to fight for the bracelet
| | | | | | |
| --- | --- | --- | --- | --- | --- |
| Ari Engel | | | | 270,000 | 14,000 |
| Hal Lubarsky | | | | Отпаднал | |
Ari Engel and Hal Lubarsky are the final two still playing. Engel has Lubarsky on the ropes with a huge chip advantage.
Ниво:

8
Блайндове:

3,000/6,000
Анте:

0
After a series of raises preflop James Cohn was all in for his tournament life against Adam Tyburski.
Tyburski:



Cohn:


The dealer put five cards in the middle of the table and they came out





giving Tyburski trip tens and the knock out blow.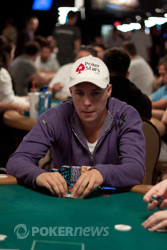 In what was likely our longest heads-up battle of the day, Dom Denotaristefani has advanced to the final table by defeating Team PokerStars Pro (Netherlands) Noah Boeken. The chip lead between the two went back and forth multiple times before Denotaristefani finally got him short and took him out.
On the final hand, Boeken was all in preflop with


against the


of Denotaristefani. The board ran out




and Boeken was out.
This will be Denotaristefani's third cash in Limit Hold'em events at this summer's WSOP and his second final table (he came fifth in the $10,000 Limit Hold'em World Championship).
We only have two matches left before we have all ten players set for the final table, it wont be long now!
Dom Denotaristefani

270,000
106,000

Noah Boeken

PokerStars Team Pro (Netherlands)

Отпаднал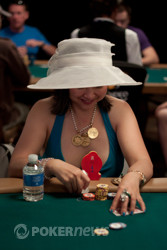 Mathieu Jacqmin had JJ Liu short stacked and on the ropes since returning from dinner break. The last six hands they played Jacqmin kept the pressure on Liu, not letting her chip up in any questionable spots.
The last hand began when Jacqmin limped on the button and Liu checked. The flop came



, Liu bet and Jacqmin called. The turn brought the

and Liu put her last remaining chips in and Jacqmin called.
Liu tabled


and Jacqmin held


. Jacqmin had to dodge a king and nine to take the hand and ultimately the match. The river fell

and Jacqmin advanced to Day 3.
We caught up with the action on a


flop. Brock Parker bet from the big and Hal Lubarsky called. The turn came the

and Parker bet his last two chips. Lubarsky called.
Lubarsky:



Parker:


The

river gave Lubarsky a flush and sent Parker to the rail.
Lubarsky has 60,000 vs. Ari Engel's 210,000 entering heads-up play.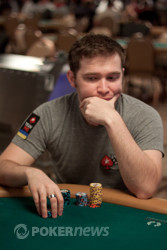 After a series of bets Sergey Rybachenko was all in preflop against Eugene Katchalov,
Katchalov:



Rybachenko:


The cards fell





with the queen on the turn Katchalov hit a pair and was able to out last his opponent's ace high.
Eugene Katchalov

PokerStars Team Pro (Ukraine)

270,000
40,000

Sergey Rybachenko

Отпаднал