Pot-Limit Omaha
Both Jeff Lisandro and Phil Galfond -- sitting on either side of the dealer on Table 286 -- returned from dinner break to short stacks. And both have been battling, managing to survive multiple all-ins through the No-Limit Hold'em and Pot-Limit Omaha rounds to start play in this level.
Just now Galfond doubled through Shaun Deeb in a PLO hand, getting back to about 160,000. Shortly after came a hand in which Deeb opened for 17,000 from the cutoff, Lisandro called from the button, then Galfond reraised the pot to 72,000 from the small blind. It folded back to Lisandro who called with his remaining chips, then stood as he tabled his hand.
"I hope you've got kings" Lisandro said, showing




. Galfond turned over



. "Pretty bad," added Lisandro, commenting on the situation.
But five cards later things looked pretty good for him, as the board read





, giving him a flush and the pot. He's still short, though, with about 110,000, and Galfond now has about the same.
Razz
Jim McCrink: (X)(X) /


FOLDED
Ben "Benba" Lamb: (X)(X) /




/ (X)
Matt Hawrilenko: (X)(X) /




/ (X)
Barry Greenstein brought it in with the

, McCrink completed, Lamb and Hawrilenko called, and Greenstein folded.
On fourth street, Lamb led out, Hawrilenko raised and McCrink folded. Lamb called.
Hawrilenko led out in fifth and sixth, Lamb called both bets, and Hawrilenko led a third time on seventh. Lamb raised, and Hawrilenko called.
Lamb opened up



for a six-four, Hawrilenko mucked, and Lamb shipped the pot.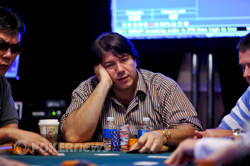 Both Guillaume Rivet and David Benyamine have been eliminated from the tournament. We reported earlier how Rivet was crippled, but we are unfortunately unaware as to how Benyamine lost his stack.
| | | | | | |
| --- | --- | --- | --- | --- | --- |
| David Benyamine | | | | Отпаднал | |
| Guillaume Rivet | | | | Отпаднал | |
Pot-Limit Omaha
Josh Arieh opened with a raise from early position to 12,000, then Scott Clements reraised all in with the 39,000 he had left. Justin Smith called the reraise from the button, Matt Glantz called from the big blind, and Arieh called as well.
The flop came



. It checked to Smith who bet the pot -- 159,000 -- and Glantz folded. Arieh tanked for some time, then made the call.
The turn brought the

and an all-in shove from Arieh for 151,500. Smith called, and the three players showed their cards.
Arieh:



-- top two pair
Clements:




-- gutshot to a small straight
Smith:




-- wrap draw to bigger straight
No one had the club flush draw, but Arieh still had to dodge a number of cards for his hand to remain good. The river brought the

. "Yes!" said Arieh at the sight of the safe eight. He scooped the big pot, pushing up to 780,000, while Smith fell to 113,000 and Clements was eliminated.
Pot-Limit Omaha
Sebastien Sabic raised from early position, and Robert Mizrachi and Alexandre Luneau called out of the blinds. The flop came down



, and all three players checked. The turn was the

, Mizrachi led for 19,500, and only Sabic called.
The river was the

, and both players checked. Sabic opened up




for a ten-high flush, and Mizrachi flashed the

before mucking.
| | | | | | |
| --- | --- | --- | --- | --- | --- |
| Robert Mizrachi | | | | 60,000 | -40,000 |
Limit Hold'em
When we reached Table 289, the board read




. Guillaume Rivet led out, and Raymond Dehkharghani called. The river was the

, Rivet led again, and Dehkharghani went into the tank before calling.
Rivet opened up


for a pair of jacks, Denkharghani tabled


for a pair of jacks with a king kicker, and Denkharghani won the pot.
"Cocktails," Rivet sighed after the hand, counting his 20-some-thousand chips.
Ниво:

14
Блайндове:

0/0
Анте:

0
Gus Hansen

1,452,500

Brian Rast

966,000
-14,000

Vladimir Shchemelev

895,500
-14,500

Shaun Deeb

850,000
10,000

Phil Hellmuth

840,000

Rami Boukai

815,000
85,000

George Lind

794,000
104,000

Barry Greenstein

PokerStars Team Pro (USA)

710,000

Matt Glantz

658,500
-231,500

Michael Binger

621,500
279,500

Scott Seiver

600,000
-170,000

Yan Chen

533,000

Owais Ahmed

520,000
70,000

Sebastian Ruthenberg

PokerStars Team Pro (Germany)

510,000
-125,000

Jason Lester

490,000
40,000

Matt Hawrilenko

485,000
20,000

Roman Yitzhaki

474,000

Justin Smith

440,000
190,000

Marco Johnson

405,500
15,500

Jon Turner

385,500

Steve Billirakis

376,000

Sebastien Sabic

375,000
255,000

Brian Hastings

360,000
-30,000

David Singer

355,000

Josh Arieh

340,000
-210,000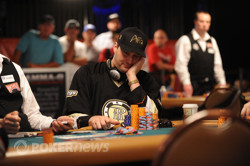 Pot-Limit Omaha
Steve Billirakis called from middle position and Phil Hellmuth raised to 15,000 on the button. Scott Seiver called from the big blind, Billirakis called, and a



flop followed.
Action checked to Hellmuth and he bet 30,000. After getting called by both opponents, the

hit the turn. Action folded to Hellmuth and he bet 62,000. Seiver folded and Billirakis went into the tank for about four minutes before re-raising all in for an additional 114,500. The it was Hellmuth's turn to tank, doing so for about twelve minutes.
"I lost with this hand yesterday," he said. Finally, he threw in his cards face up -



. Billirakis showed a

and

as he collected the chips.
| | | | | | |
| --- | --- | --- | --- | --- | --- |
| Phil Hellmuth | | | | 840,000 | -60,000 |
| Steve Billirakis | | | | 376,000 | 106,000 |