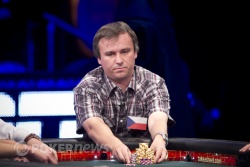 Martin Staszko began the final table on Sunday with the chip lead, coming in at 40.175 million in chips. That's only an increase of 6.29% from the stack he came in with, but Staszko has done well to lock himself up $4,021,138 and has a chance for a lot more.
Staszko didn't go too crazy early on, but did chip up a bit in the early goings. He climbed near the 50-million mark and held onto the chip lead until the 43rd hand of play, when Pius Heinz took over the top spot. Still, Staszko didn't rattle and kept playing a solid, tight-aggressive style.
On the 67th hand of the final table, Staszko eliminated Bob Bounahra in seventh place. Martin Staszko raised to 1.7 million and Bob Bounahra reraised all in for 4.475 million. Staszko called with the


and was dominating Bounahra's


. The flop, turn and river ran out





and Staszko won the pot to move to nearly 46 million after dropping back to around 40 million.
Matt Giannetti moved into second place and Staszko fell to third, but he was still right in the pack of the top three for most of the day while the players behind him fell much further down the ladder.
After Eoghan O'Dea was crippled by Ben Lamb in a very pivotal hand, Staszko send O'Dea to the rail on Hand #99. O'Dea was all in for his last 2.3 million with the


. Staszko held the


. The board ran out





to send O'Dea out the door.
During four-handed play, Staszko fell to the bottom of the group. He hovered right around the 20-million mark, but was able to selectively pick good spots to three-bet shove. Every time he did so, he added a couple million chips to his stack while hanging in there.
On the 156th hand of play, Staszko doubled through chip leader Pius Heinz. Staszko three-bet jammed for 21.525 million over a 2.1-million-chip raise from Heinz. Heinz called with the


and was up against Staszko's


. Staszko flopped trip eights on the hand and went on to hold up from there in order to get back to 44.65 million. That's right about where he ended the day roughly 20 hands later.