Event #78: The Big One for One Drop - $1,000,000 No-Limit Hold'em
Ниво
| | |
| --- | --- |
| Ниво | 22 |
| Блайндове | 600,000 / 1,200,000 |
| Анте | 1,200,000 |
Играчи
| | |
| --- | --- |
| Оставащи играчи | |
| Entries | 27 |
| Награден фонд | $24,840,000 |
Event #78: The Big One for One Drop - $1,000,000 No-Limit Hold'em
Ден 3 Приключил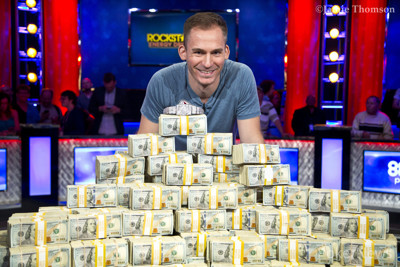 Daniel Negreanu tweeted that it was time for him to stop hanging onto the top spot on the all-time money list. That torch has been passed as Justin Bonomo ascended to the throne with a $10 million win in Event #78: $1 Million Big One for One Drop.
Bonomo now has just under $43 million in cashes, leaving Negreanu ($39,656,197) and Erik Seidel ($34,575,437) in his dust.
Bonomo called it "awesome" to be the top all-time tournament money winner but said the accolade doesn't hold as much meaning to him as his assessment of his own play. And while results in poker can lie, the incredible $25 million — and two bracelets — that Bonomo has acquired in 2018 alone reflect what Bonomo feels has been some of the best play of his decorated career.
"At the end of the day, I feel like for the past year I've played absolutely fantastic poker," he said. "I'm not going to say I'm the best player in the world but I'm very confident that I'm up there."
Official Final Table Results
| Place | Player | Country | Prize (USD) |
| --- | --- | --- | --- |
| 1st | Justin Bonomo | United States | $10,000,000 |
| 2nd | Fedor Holz | Germany | $6,000,000 |
| 3rd | Dan Smith | United States | $4,000,000 |
| 4th | Rick Salomon | United States | $2,840,000 |
| 5th | Byron Kaverman | United States | $2,000,000 |
Coming into the event, Bonomo said friends had asked him how excited he was to play One Drop, the high roller of high rollers that sees hundreds of thousands of dollars go toward access to clean water for those in need. Bonomo admitted he was anything but, though.
"It's a great privilege but I see it as a great responsibility," he said. "It's more money than I've ever played for in my life."
Befitting that, Bonomo prepared harder and with more focus than he has for any other event. He studied for hours, including the entire day before the tournament started. He studied some more on breaks. He meditated daily.
Coming into the final day, the bubble loomed with six players left but it wouldn't last long despite the monster $2 million difference between going home empty-handed and cashing. Wealthy investor David Einhorn doesn't need to sweat such a bubble like most of the other One Drop participants, so he got his chips in early on when Bonomo check-raised him after flopping top pair of sevens and bricked the turn and river with overcards.
Given that Einhorn donates all of his winnings to charity, Bonomo said he couldn't help feel but a little conflicted when the river card confirming his win came down.
"To be totally honest, I almost feel guilty for knocking David Einhorn," he said. "I will give a lot to charity but I'm not as well off as him to give it all to charity. It's an honor to be part of the money that's donated to One Drop."
Right after that, a huge pot developed when Byron Kaverman shoved for 8 million at 300,000/600,000/600,000. Fedor Holz called, and Rick Salomon reshoved for 26.9 million. Holz found the call button with tens — after Salomon's ace was exposed — and found himself in a good spot against ace-king of hearts held by Salomon and ace-five of clubs shown by Kaverman. The flop brought top two for Salomon but the turn gave Holz a gutter and Kaverman a flush draw. A ten of diamonds river meant a double knockout.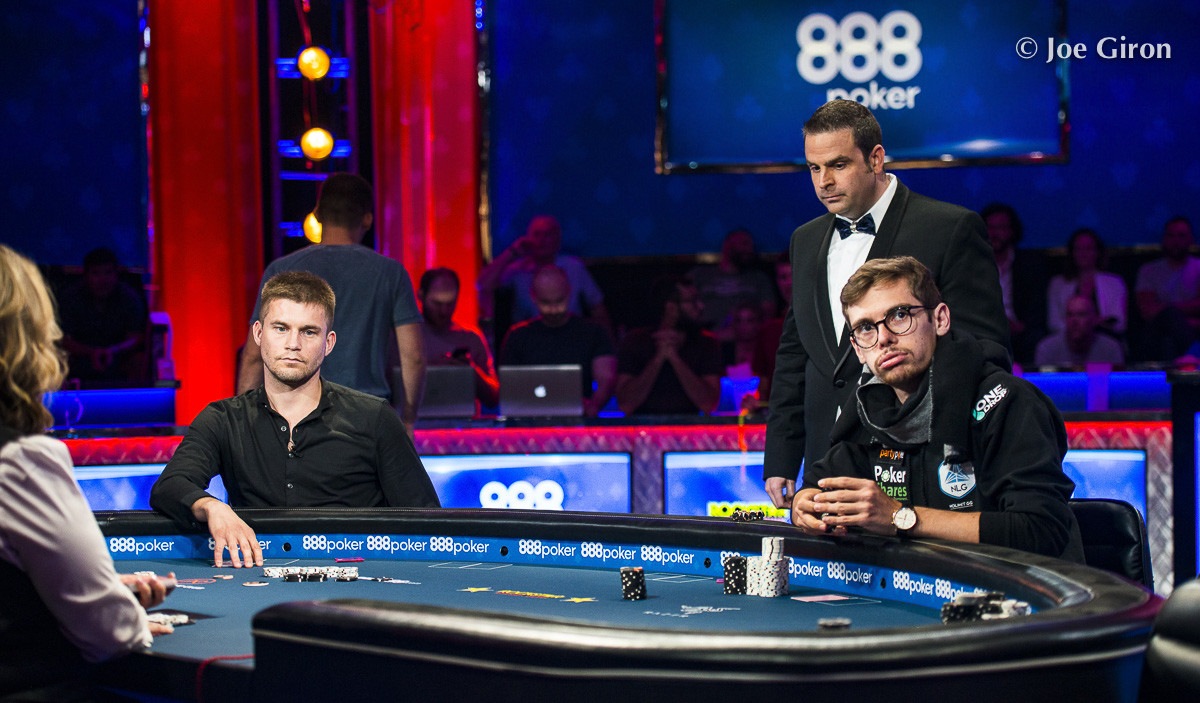 Three-handed poker for millions of dollars commenced between a fitting final three: Bonomo, Holz and fellow high roller Dan Smith.
Holz had surged into the lead and took control of about two-thirds of the total chips. Bonomo, after coming in with a sizable lead, was reduced to the short stack and about 20 big blinds. However, he'd climb back up and bust Smith with king-ten against queen-ten suited in the blinds.
A bit of a rivalry has developed between the two combatants left heads up. Holz, of course, put together arguably the greatest run in the history of tournament poker in 2016 when he won $16 million, the measuring stick by which all recent streaks have been compared and found wanting until Bonomo's binge. Furthermore, Bonomo busted Holz in a much-discussed Super High Roller Bowl hand that contributed greatly to the former's eventual $5 million victory.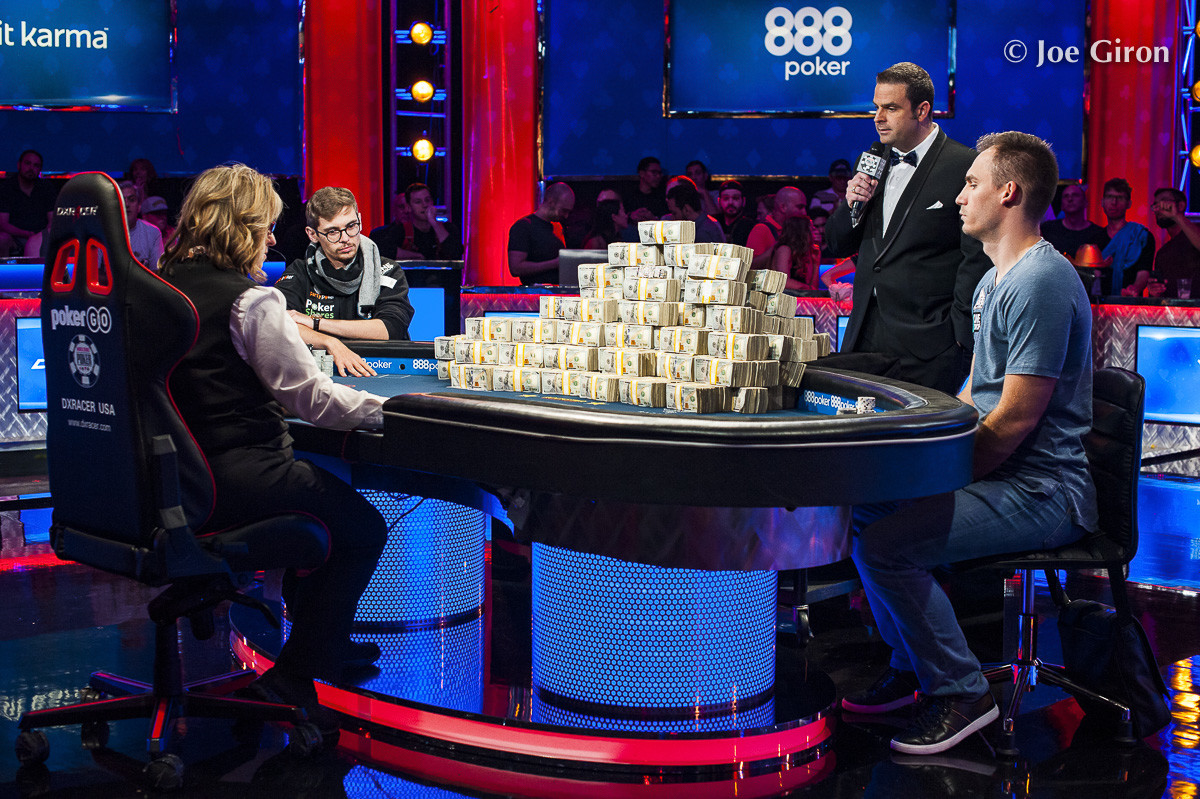 "I enjoyed seeing the tweets," Bonomo said with a laugh. "They wanted to see the true heat test: who is the luckier player, myself or Fedor?
"Almost everyone out there respects the game of both myself and Fedor. I certainly respect his game a great deal. It definitely felt like a storybook ending playing against Fedor with him starting with the chip lead and having to grind my way back."
After Bonomo won a flip to find some footing heads up, the key pot developed as Bonomo three-bet the eight-four of diamonds and turned two pair. He checked after betting the flop and Holz barreled off with a king-high airball, with Bonomo snap-calling the river to double into a big lead.
Holz got it in behind twice and scored lucky doubles, but third time was the charm for Bonomo when ace-jack was superior to Holz's ace-four.
Bonomo said he felt a combination of disbelief and happiness after the final card hit the felt. The latter is understandable but given the phenomenal run he's put together, he may be the only one on earth who felt the former.
He doesn't plan to give his opponents any reprieve, either. After some much-needed time off after what he called a "grueling" grind in recent months, Bonomo plans to get right back to business as usual.
"I don't feel that I have anything left to prove to anyone," he said. "I'm going to continue what I'm doing: playing tournaments to the best of my ability and studying and getting even better. I'll never be complacent with my poker game."
For now, he can put away the emotion-less gaze he wears at the felt and enjoy $10 million and the title of winningest player in poker tournament history.
He dedicated the win and promised the bracelet to his father after years of giving all of his trophies to his mother, and he's ready to relax and enjoy a night out with the dozens of people who cheered him to victory.
"I'm so looking forward to partying with all of these people that I love so much tonight," he said.
Big One for One Drop Winners
| Year | Winner | Country | Prize | Entries | Prize Pool |
| --- | --- | --- | --- | --- | --- |
| 2012 | Antonio Esfandiari | United States | $18,346,673 | 48 | $42,666,672 |
| 2014 | Dan Colman | United States | $15,306,668 | 42 | $37,333,338 |
| 2016 | Elton Tsang | Hong Kong | €11,111,111 | 28 | €24,888,892 |
| 2018 | Justin Bonomo | United States | $10,000,000 | 27 | $24,840,000 |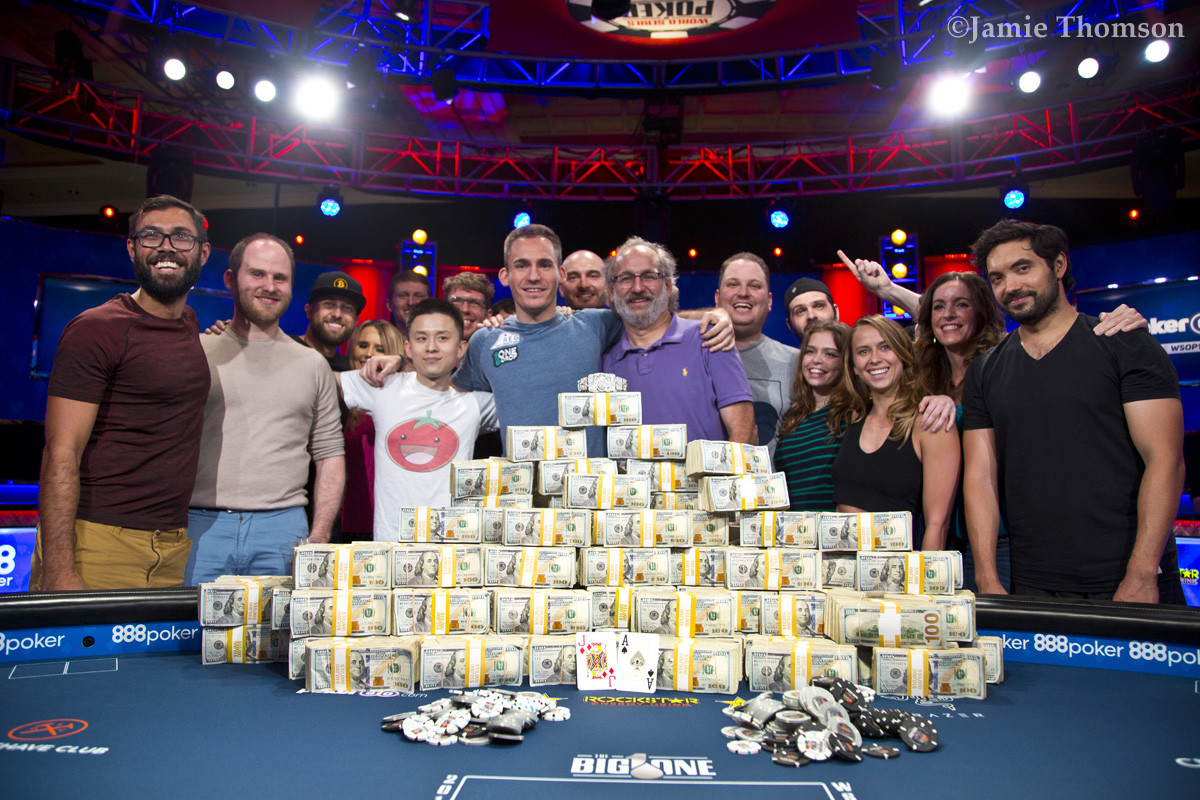 Justin Bonomo won the 2018 WSOP Big One for One Drop defeating Fedor Holz heads up. He continues an incredible year in high roller competitions. He has won upwards of $24 million in the first seven months of this year.
Photography © Jamie Thomson & Joe Giron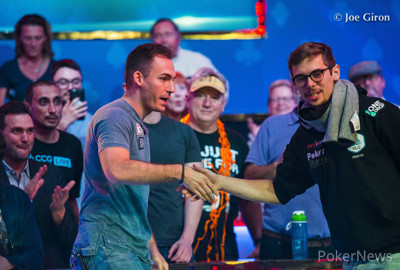 Hand #156: Justin Bonomo limped in on the button and Fedor Holz shipped all in for 23.6 million. Bonomo quickly called and the cards were on their backs with Holz's tournament life on the line.
Justin Bonomo:



Fedor Holz:


Bonomo was in a dominating position heading to the flop of



. The turn was the

and Holz picked up some straight outs to go with his one live card. The dealer burned and turned the
on the river and Bonomo held on to eliminate Holz in second place. Holz will still take home $6,000,000 for his efforts today.
Hand #153: Fedor Holz limped in and Justin Bonomo checked. The


flop went check, check, and the

appeared on the turn. Bonomo bet 2.4 million and Holz called to see the

on the river. Bonomo's bet of 6 million was called and he rolled over the


for top pair, Holz had the equally strong

and they chopped it up.
Hand #154: Bonomo limped and Holz checked, the flop came



. Holz checked over to Bonomo, who checked behind, and the

followed on the turn. Holz bet 5 million and Bonomo released his cards.
Hand #155: Holz opened the action with a raise to 3.1 million and Bonomo called. The flop was the



and they checked it over to the

turn. Bonomo bet 5.5 million and Holz called, the

river completed the board. Bonomo now made it 11 million to go and Holz folded to drop back to 20 big blinds.
Hand #148: Justin Bonomo limped in on the button and Fedor Holz checked his big blind. The flop came



and both players checked to the

on the turn. Holz checked again and Bonomo bet 1.2 million which got a fold from Holz.
Hand #149: Holz raised to 3.1 million on the button and Bonomo defended from the big blind. On a flop of



, Bonomo check-folded to a bet of 4.2 million from Holz.
Hand #150: Bonomo just called on the button and Holz raised it up to 6.2 million. Bonomo laid his hand down and Holz pulled in the pot.
Hand #151: Holz opened to 3.1 million and Bonomo called to see a flop of



. Both players checked and the

landed on the turn. Bonomo checked again and Holz checked back. The river brought the
and Bonomo led out for 10 million. Holz dumped his cards to the muck and Bonomo collected the chips.
Hand #152: Bonomo just called on the button and Holz checked his option. The flop fell


and Bonomo took down the pot with a bet of 1.2 million.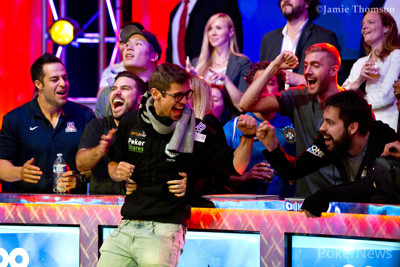 Hand #146: Justin Bonomo limped in and folded to a jam by Fedor Holz.
Hand #147: Holz shoved for 16.4 million and Bonomo quickly called.
Fedor Holz:



Justin Bonomo:


Holz improved to a pair of jacks on the



flop, and the

turn and

river runout let Holz double to remain in contention.
Ниво:

22
Блайндове:

600,000/1,200,000
Анте:

1,200,000
Hand #145: Holz raised to 2.8 million and Bonomo moved all in to force a fold.
Players are now on break for 10 minutes.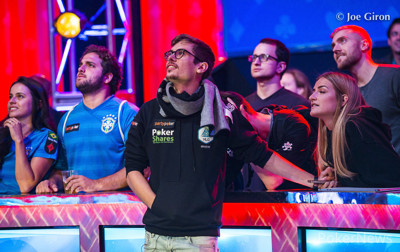 Hand #140: Justin Bonomo raised all in on the button and Fedor Holz folded his big blind.
Hand #142: Holz limped in and Bonomo opted to check his big blind as the flop came



. Bonomo check-called a bet of 1 million from Holz and the
hit the turn.
Bonomo checked again and Holz fired in a bet of 2.6 million. Bonomo still called and the

completed the board. Bonomo checked for the third time and Holz checked back. Bonomo tabled


for a flush and Holz sent his cards to the muck.
Hand #143: Bonomo shoved all in on the button and Holz threw his cards away.
Hand #144: Holz shipped all in for 10.4 million on the button and Bonomo quickly made the call, putting Holz at risk.
Justin Bonomo:



Fedor Holz:

Bonomo was slightly in the lead but Holz held two live cards. The flop came


and Bonomo still held the lead. The turn brought the

and Holz paired his queen to jump out front. The river was the

and Holz held on for a full double up.