Event Info
| | |
| --- | --- |
| Награден фонд | $4,968,900 |
| Players | 5521 |
Ниво
| | |
| --- | --- |
| Ниво | 47 |
| Блайндове | 4,000,000 / 8,000,000 |
| Анте | 8,000,000 |
Event #69: $1,000 Mini Main Event
Ден 3 Приключил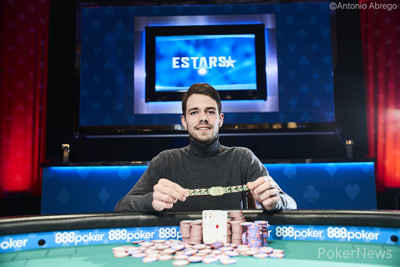 Frequent chants, shouting in various languages and crazy celebrations came from the corner of the Amazon room as Event #69: $1,000 Mini Main Event reached a sizzling conclusion at the Rio All-Suite Hotel and Casino. In a nutshell, it was exactly what poker enthusiasts are used to from ESPN and their coverage of the annual $10,000 WSOP Main Event.
Yet, it was not about life-changing seven-figure scores for all finalists, but a raw mix of emotions as poker pros and recreational players were hoping to claim the latest coveted gold bracelet at the 2019 World Series of Poker. There was nothing "mini" about the first-time event either, as a staggering 5,521 unique players created a massive prize pool of $4,968,900.
With seven different nationalities represented among the final eight, it became an international affair with the French and Chinese flag, as well as an Argentinian football jersey, adding to the final table atmosphere. It was undoubtedly the loudest rail out of any events so far, and the entire Amazon room would know when a key hand took place.
Ultimately, it was 27-year-old French poker player Jeremy Saderne that claimed the top prize of $628,654, his first-ever bracelet and the second WSOP bracelet of the summer for his home country. Saderne, who resides in London, was supported by a boisterous and packed French rail whose celebrations could be heard throughout the entire Amazon room while Day 1a of the $10,000 Main Event was going on, giving everyone a taste of what's sure to follow in the two weeks to come.
Event #69: $1,000 Mini Main Event Final Results
| Place | Player | Country | Prize |
| --- | --- | --- | --- |
| 1 | Jeremy Saderne | France | $628,654 |
| 2 | Lula Taylor | United States | $388,284 |
| 3 | Andres Korn | Argentina | $287,219 |
| 4 | Yi Ma | China | $214,047 |
| 5 | Koji Takagi | Japan | $160,715 |
| 6 | Stefan Widmer | Switzerland | $121,586 |
| 7 | Philip Gildea | Ireland | $92,686 |
| 8 | Ben Alloggio | United States | $71,199 |
| 9 | James Stewart | United States | $55,188 |
"I feel very good, I cannot imagine winning a tournament with more than five thousand people, especially in this one when the tournament is very fast. You have to have good cards or a good setup and I just ran so good and had two times aces in the last hands," an overwhelmed Saderne said in the interview after his victory.
He had to overcome an unusual opponent in heads-up, as Lula Taylor blasted her way through the tournament with a very aggressive playing style, not bowing down to any kind of intimidation. She was simply having a hoot, soaking in the entire experience and cracked jokes every other minute to entertain her opponents and everyone on the rail. Her opponents clearly enjoyed her enigmatic presence, which showed when Taylor knocked out Koji Takagi in fifth place with a rivered two-outer. Whereas many a player would head-shakingly depart after such misfortune, Takagi and Taylor warmly embraced each other instead. She'd embrace the others after life-altering showdowns too, no matter the outcome.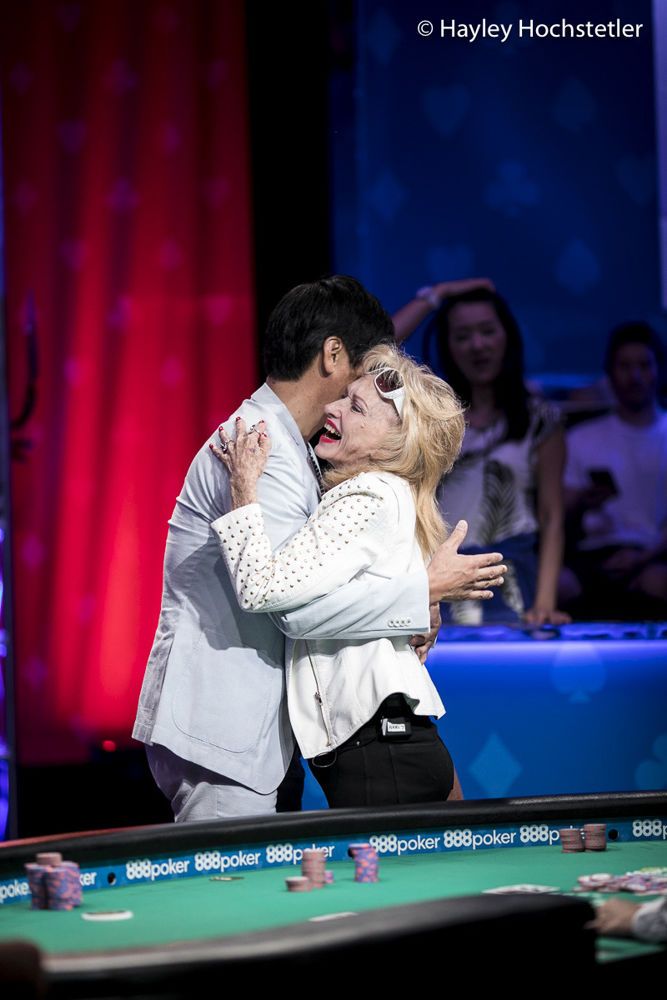 "She is so fun at the poker table, she played very aggressively without any fear about the final table or poker in general. She was so nice with me, she told me she'd like if I were her son. We began to speak not just about poker cards. It is very rare to have a person like Lula at the table," Saderne pointed out.
French rail cheers for Lula
In the final hand of the tournament, Taylor and Saderne stood together behind the table, holding hands as they awaited their fate to be dealt. The Frenchman prevailed with pocket aces and once the celebration had culminated, Saderne's rail started chanting "Lula, Lula!" over and over again to give her well-deserved credit after an extraordinary performance.
One key hand would change the outcome of the final table. With three players left, it was Saderne who had previously doubled through Taylor to take the lead, but Taylor immediately doubled back before an ordinary flip with king-ten for Taylor and pocket sixes for Saderne caused a roller coaster of emotions. Taylor flopped the king in the window, but Saderne spiked the two-outer on the river to survive, causing the French rail to erupt in loud cheers.
"I was just waiting for my bustout. It is very long to have the turn and the river on a final table. I was out but I stayed. When I hit the six, I was so shocked. If I don't hit the river, I finish third and twenty minutes later I win the tournament," Saderne said.
Seven hands later it was all over, as Saderne picked up pocket aces twice to send WSOP bracelet winner Andres Korn and Taylor to the rail in quick succession to cause another outburst of emotions and celebration behind him.
"All of my friends were here. It was incredible, I have never seen that before. It was better than in the Marseille stadium [Stade Velodrome] and I am very thankful. I just want to say thank you to all of my friends, they gave me a lot of power and energy, they were incredible."
That brings an end to the PokerNews updates from Event #69: $1,000 Mini Main Event, but the highly anticipated $10,000 WSOP Main Event is already underway and you can find all the action right here until a champion is crowned on July 16th, 2019.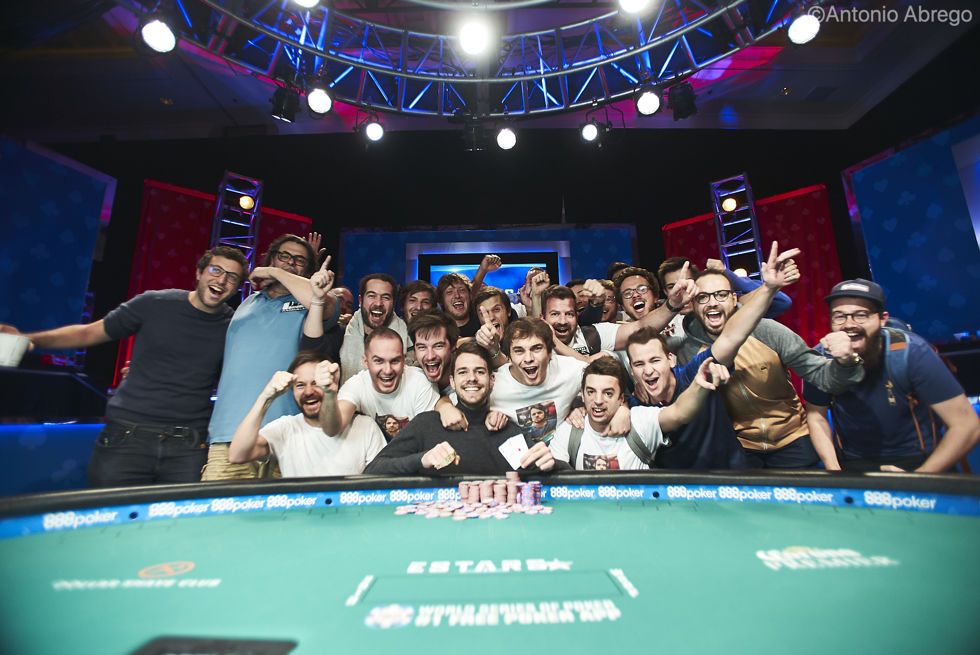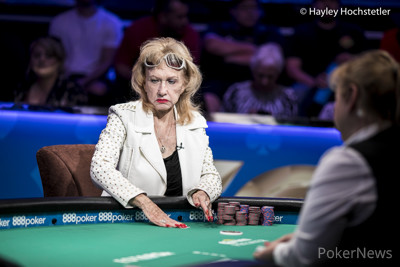 Hand #99: Lula Taylor opened to 29,000,000 and Jeremy Saderne, now draped in a French flag, three-bet to 50,000,000. Taylor moved all in for 122,000,000 in total and Saderne snap-called.
Lula Taylor:



Jeremy Saderne:


Once again, Saderne has picked up the blades and was in fantastic shape to win his first-ever bracelet. Saderne's lead grew bigger on the



flop, as Taylor now needed running outs to avoid elimination. They were standing behind the table and holding hands as they awaited the turn and river.
There was some hope on the

turn, but the

river ended Taylor's amazing run in second place for $388,284. Once all the French rail had embraced Saderne and started to chant, Saderne pointed to Taylor and his rail loudly cheered her on.
Saderne has claimed the second French bracelet of the 2019 WSOP and his maiden one, which comes with a massive payday of $628,654. The winner pictures will take some time, as dozens of French players headed to the Amazon feature table to celebrate the victory.
Hand #95: Lula Taylor moved all in and Jeremy Saderne folded.
Hand #96: Saderne limped the small blind and Taylor moved all in again, a quick fold by Saderne followed.
Hand #97: A walk for Saderne.
Hand #98: Saderne limped and Taylor checked to the


flop. Once Taylor checked, Saderne bet 8,000,000 and that won the pot.
Ниво:

47
Блайндове:

4,000,000/8,000,000
Анте:

8,000,000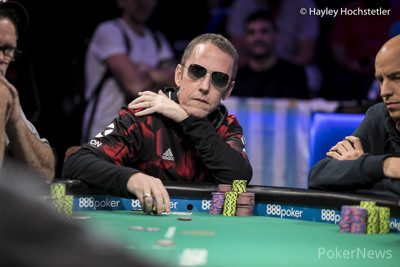 Hand #94: Jeremy Saderne limped in on the button, Andres Korn shoved all in for 67,500,000 from the small blind, and Taylor folded the big blind.
Saderne, however, had laid a trap and picked off Korn's shove in a heartbeat.
Andres Korn:



Jeremy Saderne:


The flop



kept Saderne's aces way ahead, and by the time the

came on the turn the entire French rail was on their feet, leaning over in anticipation. The river was the

and Korn had to make his way off the stage in third place, missing out on his second bracelet by a hair.
Hand #93: The hand after getting two-outed on the river, Lula Taylor shoved all in for 58,500,000 on the button, Jeremy Saderne three-bet shoved all in from the small blind and Andres Korn folded the big blind.
Lula Taylor:



Jeremy Saderne:


The flop came down



, giving Taylor the lead with a pair of jacks. The turn was the

, leaving Saderne drawing to a king, queen, or ten to knock out Taylor.
The river was the

instead and Taylor doubled up.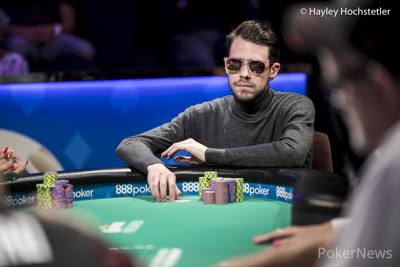 Hand #90: Jeremy Saderne limped the small blind and Andres Korn checked out of the big blind to see a



flop for free. Saderne made it 6,000,000 to go and Korn called, which brought them to the

turn. A bet of 20,000,000 by Saderne resulted in a loud celebration of the French rail, as Korn sent his cards to the muck.
Hand #91: Saderne limped in from the button and Lula Taylor checked in the big blind to a



flop. Both opted to check and the

turn paired the board. Taylor now bet 28,000,000 and Saderne quickly folded.
Hand #92: Taylor opened to 19,000,000 in the small blind and Saderne pushed for 94,000,000 in the big blind, which Taylor called after some consideration.
Jeremy Saderne:



Lula Taylor:

Taylor pulled into the lead on the



flop and the chants of the Argentinian rail grew louder as they were hoping for a pay jump for Korn. The

turn changed nothing, but an explosion of emotions took place on the

river as Saderne rivered a set for the commanding lead. The Frenchman jumped to his rail, embraced everyone as the entire room was filled with shouts in French.
| | | | | | |
| --- | --- | --- | --- | --- | --- |
| Jeremy Saderne | | | | 193,000,000 | 105,000,000 |
| Andres Korn | | | | 79,500,000 | -21,000,000 |
| Lula Taylor | | | | 58,500,000 | -84,000,000 |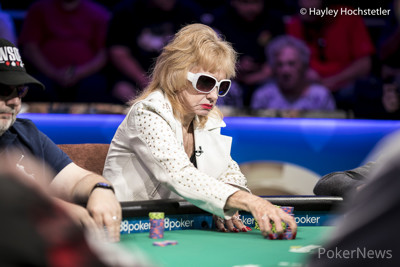 Hand #85: Walk for Lula Taylor.
Hand #86: Taylor raised to 16,500,000 in the small blind and Jeremy Saderne folded the big blind.
Hand #87: Taylor raised to 22,000,000 on the button and won her third hand in a row.
Hand #88: Saderne shoved all in for 67,000,000 on the button and won the hand.
Hand #89: Taylor limped in from the small blind, Saderne shoved from the big blind, and Taylor folded.
| | | | | | |
| --- | --- | --- | --- | --- | --- |
| Lula Taylor | | | | 142,500,000 | 16,000,000 |
| Andres Korn | | | | 100,500,000 | -16,000,000 |
| Jeremy Saderne | | | | 88,000,000 | -500,000 |
Hand #80: Lula Taylor opened to 23,000,000 in the small blind and Jeremy Saderne tank-folded after some table chat with Taylor.
Hand #81: Taylor moved all in from the button and scooped the blinds and big blind ante.
Hand #82: A walk for Taylor.
Hand #83: A walk for Saderne.
Hand #84: Taylor opened the button to 17,500,000 and found no resistance.
| | | | | | |
| --- | --- | --- | --- | --- | --- |
| Lula Taylor | | | | 126,500,000 | 12,000,000 |
| Andres Korn | | | | 116,500,000 | -12,000,000 |
| Jeremy Saderne | | | | 88,500,000 | |