Event #12: $1,500 Limit Hold'em at the 2021 World Series of Poker attracted 422 players and at the end of it, Israel's Yuval Bronshtein was the only one remaining and claimed the top prize of $124,274 along with the gold bracelet.
Bronshtein defeated Kevin Erickson after a lengthy heads-up battle where he was trailing the majority of the time. He ultimately completed the comeback to enter the elusive club of two-time bracelet winners.
Bronshtein recently bubbled in Event #2: $25,000 H.O.R.S.E. and characterized this win as "redemption".
Event #12: $1,500 Limit Hold'em Final Table Results
| Place | Player | Country | Prize |
| --- | --- | --- | --- |
| 1 | Yuval Bronshtein | Israel | $124,374 |
| 2 | Kevin Erickson | United States | $76,868 |
| 3 | Tom McCormick | United States | $53,588 |
| 4 | John Bunch | United States | $38,011 |
| 5 | Ian Glycenfer | United States | $27,488 |
| 6 | Zachary Gruneberg | United States | $20,262 |
| 7 | Guy Cicconi | United States | $15,230 |
| 8 | Tony Nasr | United States | $11,677 |
| 9 | Anh Van Nguyen | Canada | $9,137 |
On the heads-up deficit that he was able to overcome, Bronshtein said: "I was very lucky to win this after I was down to so few chips so many times, repeatedly, and my opponent was a tough player."
"I don't really believe in things that are meant to be. I feel like you gotta make everything and earn it yourself. If you play enough poker, like I have, it's gonna happen where you get really unlucky on the bubble of the biggest tournament you're playing. It's just bound to happen at some point, so I'm okay with it.
I also know that if I play as well as I'm capable of playing that this will happen, hopefully quite frequently going forward," he said with a laugh.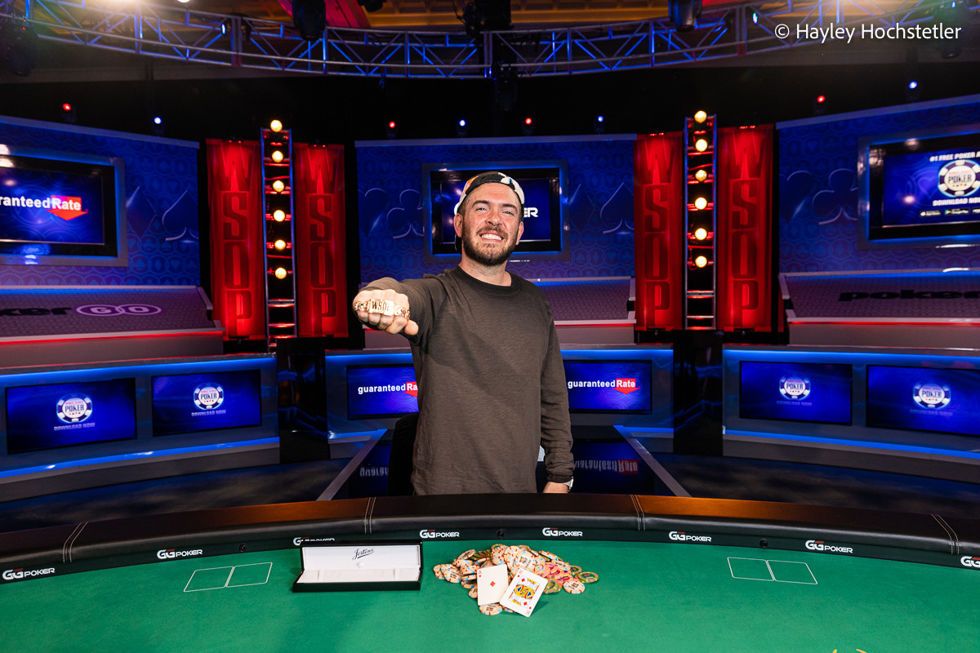 Final Table action
The final day started with 16 contenders and only a couple of hours later, only ten players remained and they moved to one unofficial final table.
Mike Lancaster was the first to go out in tenth when he ran into pocket aces. Anh Van Nguyen followed shortly after in ninth. Tony "TNT" Nasr then was eliminated in eighth after running his big slick into aces and the table was left a lot quieter without his presence and character.
Some time passed before three eliminations occurred in somewhat quick succession, with Guy Cicconi saying goodbye in seventh, Zachary Gruneberg getting his cowboys ousted in sixth, and Ian Glycenfer getting out in fifth.
John Bunch ended up exiting the tournament in fourth and Tom McCormick was gone in third after nursing a short stack and winning several at-risk hands to stay alive earlier at the final table.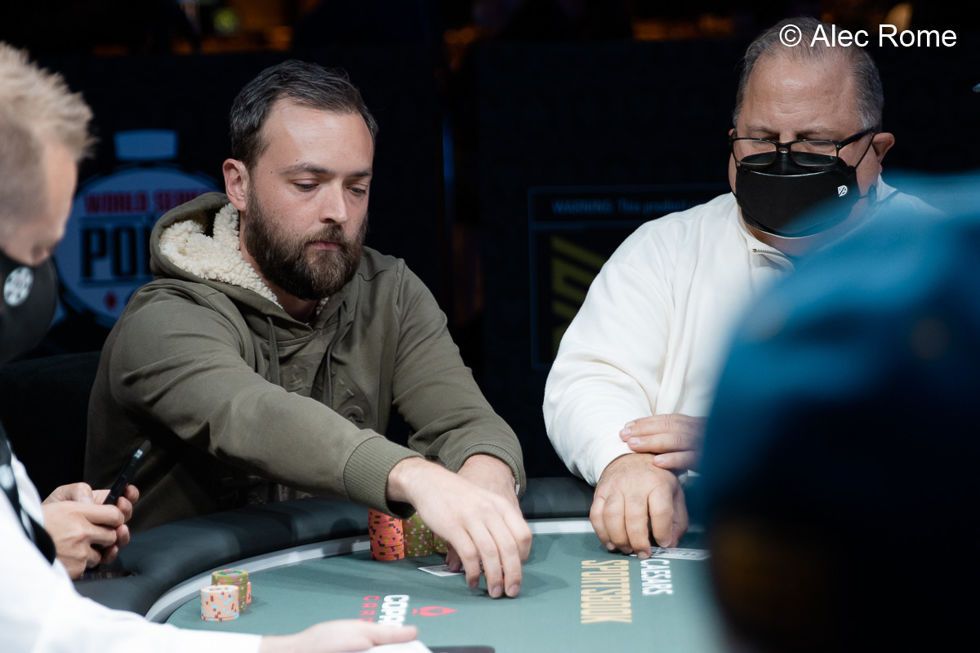 Those events set up a heads-up showdown between Bronshtein and Erickson with Erickson starting with nearly a 3:1 chip lead. Erickson extended that lead and, at times, had close to a 20:1 lead over Bronshtein. At one point, Bronshtein was at risk and behind and drawing to the river, and was able to make a flush to stay alive. He jumped into the lead after a couple of sizable pots and never relinquished it.
Not too long after, he got Erickson all-in preflop and had a dominating lead with ace-king over king-queen. Erickson was behind but still alive after the turn, however, the river was a blank, and Bronshtein celebrated his second career bracelet victory with his rail.
"They're a little similar," Bronshtein said on comparing this win to his first bracelet win. "I didn't think anything would top winning my first bracelet because it's been my goal professionally for so long."
"I can't really say if one feeling is better than the other but all things considered, considering I'm at a final table playing heads-up for a bracelet, and I got down and almost out of the tournament so many times… maybe this is even a little bit more satisfying."
"All things considered I can't really imagine a better feeling winning a bracelet after… getting so short and so discouraged, to be able to come back from that, it's a different level… It feels amazing. I'm very thankful."