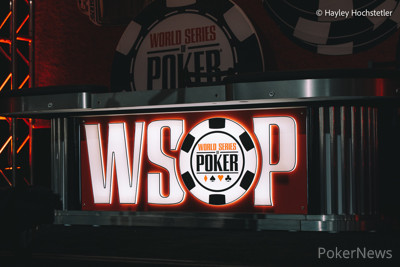 Welcome back to the penultimate day of Event #23: $1,500 Eight Game Mix 6-Handed. Today, we have 144 players returning to The Rio today at 2:00 p.m. to play ten 60-minute levels, with a break after every two levels, along with a 60-minute dinner break after level 21, or at ~8:30 p.m. (PST) local time. The returning hopefuls will all be chasing a World Series of Poker gold bracelet and the $137,969 first place cash prize.
Out of the 144 remaining hopefuls, there are an astonishing 28 bracelet winners still in the hunt. A handful of those looking to add to their coveted WSOP hardware collection includes Josh Arieh (169,300), Yuri Dzivielevski (163,300), Eli Elezra (95,300), Michael Mizrachi (178,700), and David Williams (175,200). Look for nonstop action today as all of these past winners and remaining entrants will be chasing the current chip leader, seasoned WSOP tournament veteran Sachin Bhargava (273,400).
Please join us today here at 2:00 p.m. (PST) local time on PokerNews for live updates from start to finish of this event, and all WSOP events, or live here at The Rio in the Pavilion Room.
| Room | Table | Seat | Player | Country | Chip Count |
| --- | --- | --- | --- | --- | --- |
| Pavilion | 154 | 1 | Nathaniel Parenti | United States | 51,600 |
| Pavilion | 154 | 2 | Brad Albrinck | United States | 71,400 |
| Pavilion | 154 | 3 | Brandon Bergin | United States | 94,800 |
| Pavilion | 154 | 4 | Andrew Barber | United States | 49,500 |
| Pavilion | 154 | 5 | Simon Samokovski | United States | 83,200 |
| Pavilion | 154 | 6 | Ron Ware | United States | 125,500 |
| | | | | | |
| Pavilion | 155 | 1 | John Racener | United States | 73,200 |
| Pavilion | 155 | 2 | Vincent Melendez | United States | 62,900 |
| Pavilion | 155 | 3 | Jason Simon | United States | 160,800 |
| Pavilion | 155 | 4 | Max Thain | United States | 80,000 |
| Pavilion | 155 | 5 | Derek Miller | United States | 60,400 |
| Pavilion | 155 | 6 | Toby Lewis | United Kingdom | 23,800 |
| | | | | | |
| Pavilion | 156 | 1 | Timothy Su | United States | 163,200 |
| Pavilion | 156 | 2 | Kenneth Po | United States | 33,200 |
| Pavilion | 156 | 3 | Matthew Schultz | United States | 127,900 |
| Pavilion | 156 | 4 | Frank Menendez | United States | 55,400 |
| Pavilion | 156 | 5 | Hussain Sajwani | United States | 63,900 |
| | | | | | |
| Pavilion | 157 | 1 | Eli Elezra | United States | 95,300 |
| Pavilion | 157 | 2 | Daniel Zack | United States | 149,400 |
| Pavilion | 157 | 3 | Michael Dreese | United States | 103,300 |
| Pavilion | 157 | 5 | Peter Rho | United States | 45,600 |
| Pavilion | 157 | 6 | Alan Myerson | United States | 159,000 |
| | | | | | |
| Pavilion | 158 | 1 | James Newberry | United States | 98,900 |
| Pavilion | 158 | 2 | Nikolay Yosifov | Bulgaria | 48,600 |
| Pavilion | 158 | 3 | Lewis Brant | United States | 51,500 |
| Pavilion | 158 | 4 | Brian Caplan | United States | 94,900 |
| Pavilion | 158 | 5 | Matt Glantz | United States | 45,000 |
| Pavilion | 158 | 6 | Brian Schwartz | United States | 19,800 |
| | | | | | |
| Pavilion | 159 | 1 | George Alexander | United States | 99,200 |
| Pavilion | 159 | 2 | David Jacobs | United States | 19,100 |
| Pavilion | 159 | 3 | Ken Aldridge | United States | 71,700 |
| Pavilion | 159 | 4 | Marc Wolenik | United States | 101,700 |
| Pavilion | 159 | 5 | Matt Vengrin | United States | 29,200 |
| Pavilion | 159 | 6 | Vasu Amarapu | United States | 180,400 |
| | | | | | |
| Pavilion | 160 | 2 | Jake Schwartz | United States | 70,100 |
| Pavilion | 160 | 3 | David Williams | United States | 175,200 |
| Pavilion | 160 | 4 | Tom McCormick | United States | 20,400 |
| Pavilion | 160 | 5 | Daniel Buzgon | United States | 64,700 |
| Pavilion | 160 | 6 | Sean Perry | United States | 189,000 |
| | | | | | |
| Pavilion | 161 | 1 | Scott Bohlman | United States | 70,600 |
| Pavilion | 161 | 2 | Ann Bloom | United States | 45,200 |
| Pavilion | 161 | 3 | Tony Hartmann | United States | 30,000 |
| Pavilion | 161 | 4 | Andrew Latto | United States | 117,500 |
| Pavilion | 161 | 5 | Schuyler Thornton | United States | 111,900 |
| Pavilion | 161 | 6 | Cary Katz | United States | 46,400 |
| | | | | | |
| Pavilion | 162 | 1 | Allen Kessler | United States | 42,900 |
| Pavilion | 162 | 2 | David "Bakes" Baker | United States | 78,200 |
| Pavilion | 162 | 3 | Adam Friedman | United States | 88,600 |
| Pavilion | 162 | 4 | Tal Avivi | Israel | 114,000 |
| Pavilion | 162 | 5 | Travis Pearson | United States | 61,300 |
| Pavilion | 162 | 6 | Ismael Bojang | Austria | 65,300 |
| | | | | | |
| Pavilion | 163 | 1 | Itsuko Yoroi | Japan | 38,500 |
| Pavilion | 163 | 2 | Felipe Ramos | Brazil | 83,900 |
| Pavilion | 163 | 3 | Michael Krasienko | United States | 21,900 |
| Pavilion | 163 | 4 | Koray Aldemir | Austria | 52,500 |
| Pavilion | 163 | 5 | Yong Kim | United States | 38,500 |
| Pavilion | 163 | 6 | David Moskowitz | United States | 143,000 |
| | | | | | |
| Pavilion | 164 | 1 | Josh Arieh | United States | 169,300 |
| Pavilion | 164 | 2 | Matthew Woodward | United States | 61,400 |
| Pavilion | 164 | 3 | Jay Kerbel | United States | 231,600 |
| Pavilion | 164 | 4 | Geoffrey Hum | Canada | 119,300 |
| Pavilion | 164 | 5 | Michael Pentel | United States | 23,700 |
| Pavilion | 164 | 6 | Ashly Butler | United States | 115,000 |
| | | | | | |
| Pavilion | 165 | 1 | James Morgan (CAN) | Canada | 140,700 |
| Pavilion | 165 | 2 | Joe Brindle | United Kingdom | 92,700 |
| Pavilion | 165 | 4 | Matt Szymaszek | United States | 107,800 |
| Pavilion | 165 | 5 | Tyler Stephens | United States | 12,500 |
| Pavilion | 165 | 6 | Brett Shaffer | United States | 141,700 |
| | | | | | |
| Pavilion | 166 | 1 | Cory Zeidman | United States | 36,300 |
| Pavilion | 166 | 2 | Patrick Lyons | United States | 79,600 |
| Pavilion | 166 | 3 | Sokchheka Pho | United States | 135,600 |
| Pavilion | 166 | 4 | Gabor Szabo | Hungary | 79,600 |
| Pavilion | 166 | 5 | Aaron Sinukoff | Canada | 122,100 |
| | | | | | |
| Pavilion | 167 | 1 | Richard Fuller | United States | 92,000 |
| Pavilion | 167 | 2 | Toto Leonidas | United States | 32,500 |
| Pavilion | 167 | 3 | Andre Akkari | Brazil | 122,200 |
| Pavilion | 167 | 4 | Josh Damm | United States | 96,600 |
| Pavilion | 167 | 5 | Vid Zagar | Slovenia | 73,100 |
| Pavilion | 167 | 6 | Jordan Siegel | United States | 64,600 |
| | | | | | |
| Pavilion | 168 | 1 | Vu Hoang | United States | 36,000 |
| Pavilion | 168 | 2 | David Gee | United States | 237,200 |
| Pavilion | 168 | 3 | Matthew Dames | United States | 55,700 |
| Pavilion | 168 | 4 | Ryan Leng | United States | 145,800 |
| Pavilion | 168 | 5 | Michael Cordell | United States | 70,900 |
| Pavilion | 168 | 6 | Calen McNeil | Canada | 95,400 |
| | | | | | |
| Pavilion | 169 | 1 | Robert Mather | United States | 94,000 |
| Pavilion | 169 | 2 | Aron Dermer | United States | 40,000 |
| Pavilion | 169 | 3 | John Regan | United States | 20,500 |
| Pavilion | 169 | 4 | Christopher McHugh | United States | 78,700 |
| Pavilion | 169 | 5 | Jason Mounts | United States | 80,300 |
| Pavilion | 169 | 6 | Ryan Hughes | United States | 151,000 |
| | | | | | |
| Pavilion | 170 | 1 | Johannes Becker | Germany | 88,000 |
| Pavilion | 170 | 2 | Shawn Van Asdale | United States | 89,500 |
| Pavilion | 170 | 3 | David Worden | United States | 95,800 |
| Pavilion | 170 | 5 | Dutch Boyd | United States | 40,500 |
| Pavilion | 170 | 6 | Joe Serock | United States | 116,100 |
| | | | | | |
| Pavilion | 171 | 1 | Connor Drinan | United States | 33,800 |
| Pavilion | 171 | 2 | Ian Bradley | United Kingdom | 25,500 |
| Pavilion | 171 | 3 | DID NOT REPORT 1 | United States | 79,200 |
| Pavilion | 171 | 4 | Michael Mizrachi | United States | 178,700 |
| Pavilion | 171 | 5 | Domnick Sarle | United States | 62,000 |
| Pavilion | 171 | 6 | Todd Brenn | United States | 57,900 |
| | | | | | |
| Pavilion | 172 | 1 | Anthony Mender | United States | 142,600 |
| Pavilion | 172 | 2 | Abdel Hamid | United States | 53,700 |
| Pavilion | 172 | 3 | Raymond Smego-Barranco | United States | 71,800 |
| Pavilion | 172 | 4 | Maksim Pisarenko | Russia | 136,200 |
| Pavilion | 172 | 5 | Chip Jett | United States | 88,400 |
| Pavilion | 172 | 6 | Espen Sandvik | Norway | 60,000 |
| | | | | | |
| Pavilion | 173 | 1 | Thomas Gity | United States | 37,800 |
| Pavilion | 173 | 2 | Daniel Coen | United States | 60,000 |
| Pavilion | 173 | 3 | Nicholas Marsico | United States | 99,800 |
| Pavilion | 173 | 4 | Sami Hamid | United States | 113,200 |
| Pavilion | 173 | 5 | Jorge Leon | United States | 38,200 |
| Pavilion | 173 | 6 | Calvin Anderson | United States | 73,200 |
| | | | | | |
| Pavilion | 174 | 1 | James Scott | United States | 60,700 |
| Pavilion | 174 | 2 | Rodney Spriggs | United States | 56,300 |
| Pavilion | 174 | 3 | Andres Korn | United States | 33,200 |
| Pavilion | 174 | 4 | Richard Monroe | United States | 59,800 |
| Pavilion | 174 | 5 | Kevin Brewer | United States | 171,600 |
| Pavilion | 174 | 6 | Cody Espeseth | United States | 110,000 |
| | | | | | |
| Pavilion | 175 | 1 | Sean Akhavi | United States | 82,700 |
| Pavilion | 175 | 2 | Everett Carlton | United States | 29,200 |
| Pavilion | 175 | 3 | Yuri Dzivielevski | Brazil | 163,300 |
| Pavilion | 175 | 4 | Hunter Mcclelland | United States | 112,000 |
| Pavilion | 175 | 5 | Onur Unsal | United States | 30,600 |
| Pavilion | 175 | 6 | Jon Turner | United States | 100,300 |
| | | | | | |
| Pavilion | 176 | 1 | Jeremy Ausmus | United States | 56,100 |
| Pavilion | 176 | 2 | Peter Dirksen | United States | 60,700 |
| Pavilion | 176 | 3 | Kevin Iacofano | United States | 70,800 |
| Pavilion | 176 | 4 | DID NOT REPORT 2 | United States | 91,200 |
| Pavilion | 176 | 5 | Clifford Ziff | United States | 52,600 |
| Pavilion | 176 | 6 | Peter Feldman | United States | 77,500 |
| | | | | | |
| Pavilion | 177 | 1 | Brett Richey | United States | 31,600 |
| Pavilion | 177 | 2 | Cero Zuccarello | United States | 25,200 |
| Pavilion | 177 | 3 | Filippos Stavrakis | United States | 3,800 |
| Pavilion | 177 | 4 | Bradley Bragg | United States | 171,300 |
| Pavilion | 177 | 5 | Sebastian Pauli | Germany | 56,900 |
| Pavilion | 177 | 6 | Tyler Willse | United States | 83,100 |
| | | | | | |
| Pavilion | 178 | 1 | Chris Back | Canada | 75,000 |
| Pavilion | 178 | 2 | Gregory Jamison | United States | 137,300 |
| Pavilion | 178 | 3 | John Pappas | United States | 45,400 |
| Pavilion | 178 | 4 | Sachin Bhargava | United States | 273,400 |
| Pavilion | 178 | 5 | David Prociak | United States | 171,000 |
| Pavilion | 178 | 6 | Shirley Rosario | United States | 10,900 |
Event #23: $1,500 Eight Game Mix 6-Handed
Ден 2 започнал