Event #51: $3,000 6-Handed No-Limit Hold'em
Event Info
| | |
| --- | --- |
| Вход | $3,000 |
| Награден фонд | $2,661,990 |
| Players | 997 |
Ниво
| | |
| --- | --- |
| Ниво | 34 |
| Блайндове | 250,000 / 500,000 |
| Анте | 500,000 |
Играчи - Ден 2
| | |
| --- | --- |
| Оставащи играчи | 1 |
| Entries | 41 |
Brian Rast

13,700,000
500,000

Nick Yunis

8,000,000
-1,300,000

Tuan Phan

6,100,000
-120,000

Jun Obara

GGPoker Qualifier

3,700,000
-2,175,000

Francisco Benitez

GGPoker Qualifier

3,350,000
2,050,000

John Gallaher

2,900,000
1,440,000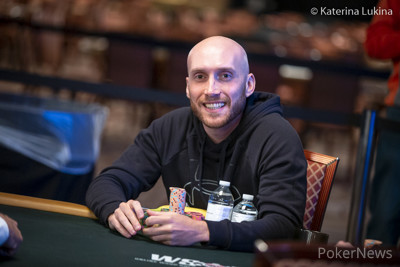 Nick Yunis raised to 600,000 on the button and Francisco Benitez called off his remaining 500,000 in the big blind.
Francisco Benitez:



Nick Yunis:


The board ran out





for Benitez to make a full house and survive in the tournament.
Nick Yunis

9,300,000
-600,000

Francisco Benitez

GGPoker Qualifier

1,300,000
-800,000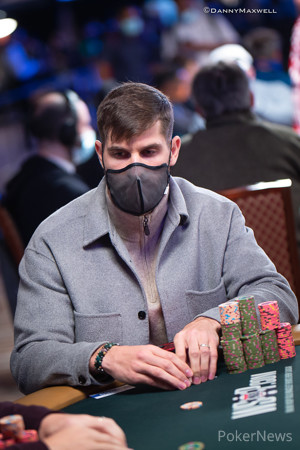 Matas Cimbolas raised in early position to 800,000 and Nick Yunis made the call next to act.
On the



flop, Cimbolas checked and Yunis threw in a 100,000 valued chip, which was all Cimbolas had behind and he called.
Matas Cimbolas:



Nick Yunis:


Both players had a gutshot straight draw but Yunis was ahead with ace-high. The

turn and

river didn't improve either hand and Cimbolas was eliminated in seventh place.
Nick Yunis

9,900,000
1,300,000

Matas Cimbolas

GGPoker Qualifier

Отпаднал
Ниво:

32
Блайндове:

150,000/300,000
Анте:

300,000
Players are on a quick color-up break.
In a blind versus blind limped pot, the flop came



and Nick Yunis check-called a 300,000 bet from Brian Rast.
On the

turn both players checked to see the

on the river. Yunis checked again and Rast fired in a bet of 425,000. Yunis thought it over for some time and put in the chips to call.
Rast tabled


for the top pair on the flop and Yunis mucked his hand.
| | | | | | |
| --- | --- | --- | --- | --- | --- |
| Brian Rast | | | | 13,200,000 | 300,000 |
| Nick Yunis | | | | 8,600,000 | 250,000 |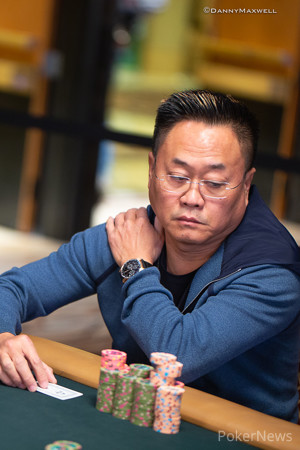 Tuan Phan shoved on the button for 2,870,000 and John Gallaher was next to act and shoved his stack in the middle as well.
Tuan Phan:


John Gallaher:


The flop came



, pairing Gallaher's ace at the same time giving Phan a flush draw. The

on the turn completed Phan's flush and the river was the

.
| | | | | | |
| --- | --- | --- | --- | --- | --- |
| Tuan Phan | | | | 6,220,000 | 3,835,000 |
| John Gallaher | | | | 1,460,000 | -2,590,000 |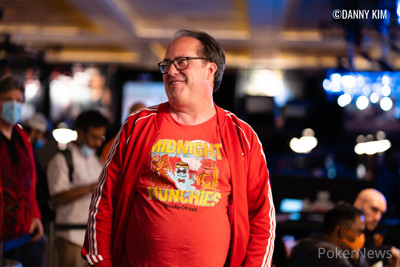 Jun Obara raised all in from the button, Tuan Phan folded his small blind and action was on John "Johnny Run Good" Gallaher who looked down at his cards, paused, then called off his 2,025,000 stack from the big blind.
John Gallaher:



Jun Obara:


Gallaher was ahead until the



flop hit the felt pairing Obara's seven while giving him a gutshot straight draw.
The

turn wasn't a good sight for Gallaher as not only did it complete Obara's straight, it also gave him a straight flush draw.
Gallaher was drawing slim as the only card that could save him was a none-diamond nine.
Luckily for him, he didn't get the knick-name "Johnny Run Good" for no reason as the dealer completed the board with the

on the river and secured his double-up.
Jun Obara

GGPoker Qualifier

5,875,000
2,005,000

John Gallaher

4,050,000
1,130,000
| Seat | Player | Chip Count | |
| --- | --- | --- | --- |
| 1 | Matas Cimbolas | 3,610,000 | |
| 2 | Nick Yunis | 8,350,000 | |
| 3 | Brian Rast | 12,900,000 | |
| 4 | Francisco Benitez | 2,100,000 | |
| 5 | Jun Obara | 3,870,000 | |
| 6 | Tuan Phan | 2,385000 | |
| 7 | John Gallaher | 2,920,000 | |
Brian Rast

12,900,000
-300,000

Nick Yunis

8,350,000
-650,000

Jun Obara

GGPoker Qualifier

3,870,000
-810,000

Matas Cimbolas

GGPoker Qualifier

3,610,000
-2,890,000

John Gallaher

2,920,000
220,000

Tuan Phan

2,385,000
365,000

Francisco Benitez

GGPoker Qualifier

2,100,000
-450,000
Ниво:

31
Блайндове:

120,000/240,000
Анте:

240,000