Ниво:

13
Блайндове:

1,500/3,000
Анте:

500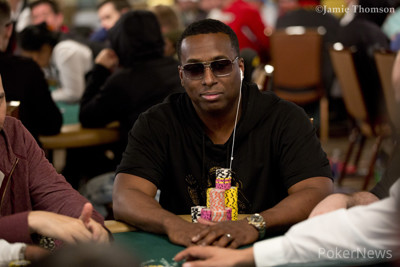 Day 3 of Event #23: THE MARATHON - $2,620 No-Limit Hold'em begins at 12:00 p.m. and 268 players are set to return to the felt and to rejoin the race for the money.
Everyone is chasing the first-place prize of $690,469, but with the money bubble right around the corner with 264 places paid, players right now are focused on getting paid a guaranteed minimum of $3,934.
Leading the field by a wide margin is none other than 10-time WSOP Circuit Ring Champion Maurice Hawkins with 920,000. Hawkins was near the top of the leaderboard at the end of Day 1 and kept on running away from the field throughout Day 2, creating a gap of just over 300,000 between himself and his next closest competitor. Hawkins is no stranger to winning and is on a mission to get his first ever WSOP bracelet. With the stack he holds and the skills to go with it, this could be the one.
In second place is Alexander Lynskey with 618,000. Lynskey has recorded three top 10 live finishes this year and is on a roll. Not far behind him is three-time WSOP bracelet winner Adrian Mateos with 599,500. Mateos is fresh off of his win in the Event #15: The $10,000 Heads Up No-Limit Hold'em Championship where he took home $324,470. He is definitely a very dangerous opponent.
When play resumes players will play seven 100-minute levels and get a 15-minute break every level. Dinner break is 60 minutes long and scheduled for 7:30 p.m. after the fourth level. Play will start at Level 13 with 1500/3000 blinds and a 500 ante. Day 4 and Day 5 will play out over the next two days starting at noon until a champion is crowned.
PokerNews has activated the My Stack App for this event, allowing you to directly adjust your chip counts in our live reporting blog using your iPhone or Android phone.
Stay tuned for all the latest news and live updates from the PokerNews team.
Day 3 Seat Draw
| Room | Table | Seat | Player | Country | Chip Count | Big Blinds |
| --- | --- | --- | --- | --- | --- | --- |
| Miranda | 600 | 1 | Robert Opila | United States | 95,000 | 32 |
| Miranda | 600 | 2 | Kyle Montgomery | United States | 46,500 | 16 |
| Miranda | 600 | 3 | Joshua Herman | Canada | 177,000 | 59 |
| Miranda | 600 | 4 | Kevin Saul | United States | 103,500 | 35 |
| Miranda | 600 | 5 | Ankush Mandavia | United States | 325,500 | 109 |
| Miranda | 600 | 6 | Darren Rabinowitz | United States | 89,000 | 30 |
| Miranda | 600 | 7 | Gaurav Raina | United States | 170,500 | 57 |
| Miranda | 600 | 8 | David Meyer | United States | 140,500 | 47 |
| Miranda | 600 | 9 | Jason Heyman | United States | 56,000 | 19 |
| | | | | | | |
| Miranda | 601 | 1 | Ruslan Gazaev | Russia | 96,500 | 32 |
| Miranda | 601 | 2 | Jeremy Delgallo | United States | 264,500 | 88 |
| Miranda | 601 | 3 | Arman Sogomonian | United States | 60,000 | 20 |
| Miranda | 601 | 4 | Sundiata Devore | United States | 59,000 | 20 |
| Miranda | 601 | 5 | Adam Berger | United States | 251,000 | 84 |
| Miranda | 601 | 6 | Christian Rudolph | Germany | 78,000 | 26 |
| Miranda | 601 | 7 | Chris Bolek | United States | 142,000 | 47 |
| Miranda | 601 | 8 | Mehrdad Yousefzadeh | United States | 244,000 | 81 |
| Miranda | 601 | 9 | Robert Park | United States | 80,000 | 27 |
| | | | | | | |
| Miranda | 602 | 1 | Anthony Scarborough | United States | 166,000 | 55 |
| Miranda | 602 | 2 | Natasha Mercier | United States | 128,500 | 43 |
| Miranda | 602 | 3 | Julian Parmann | United States | 99,500 | 33 |
| Miranda | 602 | 4 | Ran Ilani | Israel | 167,500 | 56 |
| Miranda | 602 | 5 | Luis Blumberg | Brazil | 96,500 | 32 |
| Miranda | 602 | 6 | Daniel Erlandsson | Sweden | 148,500 | 50 |
| Miranda | 602 | 7 | Timothy Domboski | United States | 135,500 | 45 |
| Miranda | 602 | 8 | Nikita Leshchinskiy | United States | 74,500 | 25 |
| Miranda | 602 | 9 | Stephen Le Peau | United States | 98,500 | 33 |
| | | | | | | |
| Miranda | 603 | 1 | Jason Mercier | United States | 292,500 | 98 |
| Miranda | 603 | 2 | Faraz Jaka | United States | 156,500 | 52 |
| Miranda | 603 | 3 | Kevin Selby | United States | 157,000 | 52 |
| Miranda | 603 | 4 | Zheng Yu | China | 159,500 | 53 |
| Miranda | 603 | 5 | Gregory Fishberg | United States | 297,500 | 99 |
| Miranda | 603 | 6 | Matthew Sullivan | United States | 51,500 | 17 |
| Miranda | 603 | 7 | David Lambard | United States | 282,000 | 94 |
| Miranda | 603 | 8 | Fredrick Arni | United States | 166,500 | 56 |
| Miranda | 603 | 9 | Niall Farrell | United Kingdom | 425,000 | 142 |
| | | | | | | |
| Miranda | 604 | 1 | Chad Deberry | United States | 60,000 | 20 |
| Miranda | 604 | 2 | Jorge Espinoza | Venezuela | 178,000 | 59 |
| Miranda | 604 | 3 | Michael Addamo | Audtralia | 246,000 | 82 |
| Miranda | 604 | 4 | Xixiang Luo | China | 308,000 | 103 |
| Miranda | 604 | 5 | Anthony Suarez | United States | 96,000 | 32 |
| Miranda | 604 | 6 | William Ragatz | United States | 37,000 | 12 |
| Miranda | 604 | 7 | Jose Latorre | Spain | 346,500 | 116 |
| Miranda | 604 | 8 | Ryan Snickles | United States | 193,000 | 64 |
| Miranda | 604 | 9 | Kong Li | United States | 84,500 | 28 |
| | | | | | | |
| Miranda | 605 | 1 | Theodore Burt | United States | 236,000 | 79 |
| Miranda | 605 | 2 | Joshua Smith | United States | 276,000 | 92 |
| Miranda | 605 | 3 | Christopher Mcnally | United States | 98,000 | 33 |
| Miranda | 605 | 4 | [Removed:342] | United States | 98,000 | 33 |
| Miranda | 605 | 5 | Matthew Vaughan | United States | 353,500 | 118 |
| Miranda | 605 | 6 | Michael Kane | United Kingdom | 515,000 | 172 |
| Miranda | 605 | 7 | Duane Wellnitz | United States | 41,000 | 14 |
| Miranda | 605 | 8 | Vinod Vangimalla | United States | 98,000 | 33 |
| Miranda | 605 | 9 | Matt Stout | United States | 49,000 | 16 |
| | | | | | | |
| Miranda | 609 | 1 | William Brown | United States | 42,000 | 14 |
| Miranda | 609 | 2 | Andrew Brinkley | United States | 101,000 | 34 |
| Miranda | 609 | 4 | Sergio Cabrera | Spain | 85,500 | 29 |
| Miranda | 609 | 5 | Maxim Sorokin | Russia | 553,500 | 185 |
| Miranda | 609 | 6 | Matthew Parry | United States | 586,000 | 195 |
| Miranda | 609 | 7 | John Frields | United States | 76,000 | 25 |
| Miranda | 609 | 8 | Rubem Mourao | Brazil | 265,000 | 88 |
| Miranda | 609 | 9 | Tonio Roder | Germany | 146,000 | 49 |
| | | | | | | |
| Miranda | 610 | 1 | Chawki Fawaz | Ivory Coast | 148,500 | 50 |
| Miranda | 610 | 2 | Lynn Franklin | United States | 73,000 | 24 |
| Miranda | 610 | 3 | Samar William | United States | 49,500 | 17 |
| Miranda | 610 | 4 | Osman Ihlamur | Germany | 169,500 | 57 |
| Miranda | 610 | 5 | Stephen Brown | United States | 370,000 | 123 |
| Miranda | 610 | 6 | Griffin Malatino | United States | 81,500 | 27 |
| Miranda | 610 | 7 | DID NOT REPORT 3 | United States | 69,000 | 23 |
| Miranda | 610 | 8 | Yu Li | United States | 380,500 | 127 |
| Miranda | 610 | 9 | Steven Clark | United States | 76,500 | 26 |
| | | | | | | |
| Miranda | 611 | 1 | Jeffrey Tomlinson | United States | 280,500 | 94 |
| Miranda | 611 | 2 | Andrew Sakai | United States | 124,500 | 42 |
| Miranda | 611 | 3 | Samuel Phillips | United States | 125,000 | 42 |
| Miranda | 611 | 4 | Benjamin Dobson | United Kingdom | 27,000 | 9 |
| Miranda | 611 | 5 | Walan Kite | United States | 35,000 | 12 |
| Miranda | 611 | 6 | Darren Judges | United Kingdom | 315,000 | 105 |
| Miranda | 611 | 7 | Mitchell Lindley | United States | 55,000 | 18 |
| Miranda | 611 | 8 | Jorge Pena | United States | 268,000 | 89 |
| Miranda | 611 | 9 | Nick Palma | United States | 187,500 | 63 |
| | | | | | | |
| Miranda | 612 | 1 | Jason Jung | United States | 78,000 | 26 |
| Miranda | 612 | 2 | Marcel Vonk | Netherlands | 155,000 | 52 |
| Miranda | 612 | 3 | Pascal Hartman | Germany | 37,000 | 12 |
| Miranda | 612 | 4 | Antonio Gonzalez Miranda | Spain | 49,500 | 17 |
| Miranda | 612 | 5 | Rafael Gonzalez | United States | 283,000 | 94 |
| Miranda | 612 | 6 | Ryan Jaworski | United States | 188,500 | 63 |
| Miranda | 612 | 7 | Jeffrey Landherr | United States | 110,500 | 37 |
| Miranda | 612 | 8 | Jeffrey Dewitt | United States | 225,500 | 75 |
| Miranda | 612 | 9 | Thomas Lutz | United States | 457,000 | 152 |
| | | | | | | |
| Miranda | 613 | 1 | Aladin Reskallah | Canada | 42,500 | 14 |
| Miranda | 613 | 2 | David Desantis | United States | 269,000 | 90 |
| Miranda | 613 | 3 | Maria Ho | United States | 287,500 | 96 |
| Miranda | 613 | 4 | Adrian Mateos | Spain | 599,500 | 200 |
| Miranda | 613 | 5 | Baptiste Chavaillaz | United States | 203,500 | 68 |
| Miranda | 613 | 6 | Anju Abrol | India | 50,500 | 17 |
| Miranda | 613 | 7 | Vernon Bludson | United States | 47,500 | 16 |
| Miranda | 613 | 8 | Koray Aldemir | Austria | 92,000 | 31 |
| Miranda | 613 | 9 | Ryan Hartmann | United States | 170,500 | 57 |
| | | | | | | |
| Miranda | 614 | 1 | DID NOT REPORT 2 | United States | 178,000 | 59 |
| Miranda | 614 | 2 | Jason Hoffman | United States | 101,500 | 34 |
| Miranda | 614 | 3 | Matthew Lengal | United States | 226,500 | 76 |
| Miranda | 614 | 4 | Felipe Ramos | Brazil | 237,000 | 79 |
| Miranda | 614 | 5 | Mark Gilleland | United States | 250,500 | 84 |
| Miranda | 614 | 6 | Jordan Handrich | United States | 122,000 | 41 |
| Miranda | 614 | 7 | Mike Leah | Canada | 148,000 | 49 |
| Miranda | 614 | 8 | Anthony Ortega | United States | 112,000 | 37 |
| Miranda | 614 | 9 | Jerry Giroir | United States | 25,000 | 8 |
| | | | | | | |
| Miranda | 618 | 1 | Joshua Wallace | Canada | 228,500 | 76 |
| Miranda | 618 | 2 | Sampath De Silva | United States | 478,500 | 160 |
| Miranda | 618 | 4 | Danamarie Muse | United States | 101,000 | 34 |
| Miranda | 618 | 5 | Shaun Tobin | United States | 220,000 | 73 |
| Miranda | 618 | 6 | Mark Shaves | United States | 250,000 | 83 |
| Miranda | 618 | 7 | Upeshka De Silva | United States | 164,000 | 55 |
| Miranda | 618 | 8 | Daniel Deveau | United States | 40,000 | 13 |
| Miranda | 618 | 9 | Binh Nguyen | United States | 44,500 | 15 |
| | | | | | | |
| Miranda | 619 | 1 | Rick Alvarado | United States | 67,500 | 23 |
| Miranda | 619 | 2 | Isidro Sifuentes | United States | 105,000 | 35 |
| Miranda | 619 | 3 | Mark Reilly | Ireland | 35,000 | 12 |
| Miranda | 619 | 4 | Tristan Wade | United States | 205,000 | 68 |
| Miranda | 619 | 5 | David Eldridge | United States | 423,000 | 141 |
| Miranda | 619 | 6 | Yulius Sepman | Russia | 55,500 | 19 |
| Miranda | 619 | 7 | Gal Yifrach | United States | 78,500 | 26 |
| Miranda | 619 | 8 | Careen Foster | United States | 68,500 | 23 |
| Miranda | 619 | 9 | James Millman | United Kingdom | 91,500 | 31 |
| | | | | | | |
| Miranda | 620 | 1 | Kiryl Radzivonau | Belarus | 153,000 | 51 |
| Miranda | 620 | 2 | Igor Yaroshevskyy | Ukraine | 333,500 | 111 |
| Miranda | 620 | 3 | Michael Esposito | United States | 63,500 | 21 |
| Miranda | 620 | 4 | Travis Jonas | United States | 191,500 | 64 |
| Miranda | 620 | 5 | Louis Linard | France | 168,000 | 56 |
| Miranda | 620 | 6 | John Thornton | United States | 388,000 | 129 |
| Miranda | 620 | 7 | Allen Lahouti | United States | 56,000 | 19 |
| Miranda | 620 | 8 | Timothy Ulmer | United States | 280,000 | 93 |
| Miranda | 620 | 9 | Chad Keating | United States | 81,000 | 27 |
| | | | | | | |
| Miranda | 621 | 1 | Michael Burns | United States | 288,500 | 96 |
| Miranda | 621 | 2 | Harry Lodge | United Kingdom | 305,500 | 102 |
| Miranda | 621 | 3 | John Phan | United States | 41,300 | 14 |
| Miranda | 621 | 4 | James Tian | United States | 268,500 | 90 |
| Miranda | 621 | 5 | Aaron Thomas | United States | 101,000 | 34 |
| Miranda | 621 | 6 | Dietrich Fast | Austria | 264,500 | 88 |
| Miranda | 621 | 7 | Pedro Cabeca | Portugal | 331,000 | 110 |
| Miranda | 621 | 8 | Neel Murthy | United States | 175,500 | 59 |
| Miranda | 621 | 9 | Joseph Di Rosa Rojas | Venezuela | 31,500 | 11 |
| | | | | | | |
| Miranda | 622 | 1 | Andrew Dennis | United States | 131,500 | 44 |
| Miranda | 622 | 2 | Christopher Dandrea | United States | 70,000 | 23 |
| Miranda | 622 | 3 | Ana Marquez | Spain | 154,000 | 51 |
| Miranda | 622 | 4 | Alexander Lynskey | Australia | 618,000 | 206 |
| Miranda | 622 | 5 | Christopher Ma | United States | 77,500 | 26 |
| Miranda | 622 | 6 | Ken Aldridge | United States | 80,400 | 27 |
| Miranda | 622 | 7 | Mitchell Towner | United States | 28,500 | 10 |
| Miranda | 622 | 8 | Michael Rossitto | United States | 148,500 | 50 |
| Miranda | 622 | 9 | Rembert Net | Malta | 200,000 | 67 |
| | | | | | | |
| Miranda | 623 | 1 | Andy Zarro | Australia | 118,000 | 39 |
| Miranda | 623 | 2 | Markus Kuhnen | United Kingdom | 345,000 | 115 |
| Miranda | 623 | 3 | Severin Schleser | Austria | 318,500 | 106 |
| Miranda | 623 | 4 | Lee Watkinson | United States | 280,000 | 93 |
| Miranda | 623 | 5 | Pratik Ghatge | United Kingdom | 246,000 | 82 |
| Miranda | 623 | 6 | Terry Schumacher | Belgium | 220,000 | 73 |
| Miranda | 623 | 7 | Dmitry Yurasov | Russia | 57,500 | 19 |
| Miranda | 623 | 8 | Maurice Hawkins | United States | 920,000 | 307 |
| Miranda | 623 | 9 | Alexander Bernard | United States | 42,500 | 14 |
| | | | | | | |
| Miranda | 627 | 1 | DID NOT REPORT 1 | United States | 252,000 | 84 |
| Miranda | 627 | 2 | Brett Newton | United States | 86,500 | 29 |
| Miranda | 627 | 3 | Riley Fuller | United States | 243,000 | 81 |
| Miranda | 627 | 4 | Alexandre Rivero | Brazil | 84,500 | 28 |
| Miranda | 627 | 5 | Xiao Ruan | United States | 123,500 | 41 |
| Miranda | 627 | 6 | Montgomery Cole | United States | 91,500 | 31 |
| Miranda | 627 | 7 | Jamie Armstrong | United States | 181,500 | 61 |
| Miranda | 627 | 8 | Thomas Scholze | Germany | 119,000 | 40 |
| Miranda | 627 | 9 | Haresh Jethani | United States | 53,000 | 18 |
| | | | | | | |
| Miranda | 628 | 1 | Robert Estabrook | United States | 222,000 | 74 |
| Miranda | 628 | 2 | Sergei Nikiforov | Russia | 36,500 | 12 |
| Miranda | 628 | 3 | Zachary Mcdiarmid | United States | 232,500 | 78 |
| Miranda | 628 | 4 | Sam Stein | United States | 217,000 | 72 |
| Miranda | 628 | 5 | Connor Berkowitz | United States | 86,000 | 29 |
| Miranda | 628 | 6 | Dakota Burnett | United States | 113,500 | 38 |
| Miranda | 628 | 7 | Martin Staszko | Czech Republic | 58,000 | 19 |
| Miranda | 628 | 8 | Aaron Gramlich | United States | 44,500 | 15 |
| Miranda | 628 | 9 | Kristen Bicknell | Canada | 230,500 | 77 |
| | | | | | | |
| Miranda | 629 | 1 | Martin Weiemann | Germany | 56,500 | 19 |
| Miranda | 629 | 2 | Nick Shkolnik | United States | 269,500 | 90 |
| Miranda | 629 | 3 | Robert Sparks | United States | 95,000 | 32 |
| Miranda | 629 | 4 | Renee Luba | United States | 79,500 | 27 |
| Miranda | 629 | 5 | Dung Gomer Nguyen | United States | 94,000 | 31 |
| Miranda | 629 | 6 | Kou Vang | United States | 85,000 | 28 |
| Miranda | 629 | 7 | Daniel Roberts | United States | 32,000 | 11 |
| Miranda | 629 | 8 | Hamid Izadi | United States | 161,500 | 54 |
| Miranda | 629 | 9 | Joseph Potts | United States | 284,500 | 95 |
| | | | | | | |
| Miranda | 630 | 1 | Kristijonas Andrulis | Lithuania | 56,500 | 19 |
| Miranda | 630 | 2 | Jonas Lauck | Germany | 321,500 | 107 |
| Miranda | 630 | 3 | Dylan Wilkerson | United States | 81,000 | 27 |
| Miranda | 630 | 4 | David Cossio | United States | 149,000 | 50 |
| Miranda | 630 | 5 | William Graydon | United States | 191,000 | 64 |
| Miranda | 630 | 6 | Patrick Mahoney | United States | 343,000 | 114 |
| Miranda | 630 | 7 | John Leman | United States | 82,500 | 28 |
| Miranda | 630 | 8 | Gregory Geller | United States | 74,000 | 25 |
| Miranda | 630 | 9 | Millard Hale | United States | 259,000 | 86 |
| | | | | | | |
| Miranda | 631 | 1 | Caroline Dupre | Brazil | 276,000 | 92 |
| Miranda | 631 | 2 | Paul Lentz | United States | 170,000 | 57 |
| Miranda | 631 | 3 | Benjamin Taylor | United States | 212,500 | 71 |
| Miranda | 631 | 4 | Nathan Tuthill | United States | 66,000 | 22 |
| Miranda | 631 | 5 | Eric Baldwin | United States | 492,500 | 164 |
| Miranda | 631 | 6 | John Spishak | United States | 1 | - |
| Miranda | 631 | 7 | Artur Rudziankov | Czech Republic | 62,500 | 21 |
| Miranda | 631 | 8 | Tim Reilly | United States | 55,000 | 18 |
| Miranda | 631 | 9 | Pfizer Jordan | United States | 269,000 | 90 |
| | | | | | | |
| Miranda | 632 | 1 | Ludovic Moryousef | France | 91,500 | 31 |
| Miranda | 632 | 2 | Moritz Dietrich | Austria | 285,000 | 95 |
| Miranda | 632 | 3 | Brennan Benglis | United States | 234,000 | 78 |
| Miranda | 632 | 4 | Lev Milman | United States | 105,500 | 35 |
| Miranda | 632 | 5 | Andrew Camou | United States | 111,500 | 37 |
| Miranda | 632 | 6 | Bartlomiej Machon | Portugal | 310,000 | 103 |
| Miranda | 632 | 7 | Josh Weiss | United States | 399,000 | 133 |
| Miranda | 632 | 8 | Wajih Francis | Brazil | 274,000 | 91 |
| Miranda | 632 | 9 | David Gonia | United States | 417,500 | 139 |
| | | | | | | |
| Miranda | 636 | 1 | Ricky Guan | United States | 46,000 | 15 |
| Miranda | 636 | 2 | Emile Schiff | Jamaica | 183,000 | 61 |
| Miranda | 636 | 3 | Jeffrey Turton | United States | 335,000 | 112 |
| Miranda | 636 | 4 | Sam Cohen | United States | 133,500 | 45 |
| Miranda | 636 | 5 | David Snacki | United States | 105,000 | 35 |
| Miranda | 636 | 6 | Marcos Antunes | Brazil | 37,500 | 13 |
| Miranda | 636 | 7 | Mike Lancaster | United States | 78,000 | 26 |
| Miranda | 636 | 8 | Darren Johnson | Canada | 11,100 | 4 |
| Miranda | 636 | 9 | Bertrand Rosique | France | 118,000 | 39 |
| | | | | | | |
| Miranda | 637 | 1 | Saurabh Patel | United States | 145,500 | 49 |
| Miranda | 637 | 2 | Anton Astapau | Latvia | 64,000 | 21 |
| Miranda | 637 | 3 | Alex Massman | United States | 292,000 | 97 |
| Miranda | 637 | 4 | John Butterfield | United States | 314,500 | 105 |
| Miranda | 637 | 5 | Michael Hada | United States | 297,500 | 99 |
| Miranda | 637 | 6 | Jesse Cohen | United States | 54,500 | 18 |
| Miranda | 637 | 7 | Greg Jennings | United States | 132,000 | 44 |
| Miranda | 637 | 8 | Sebastian Pauli | Germany | 33,000 | 11 |
| Miranda | 637 | 9 | David Williams | United States | 71,500 | 24 |
| | | | | | | |
| Miranda | 638 | 1 | Edward Stiltner | United States | 70,500 | 24 |
| Miranda | 638 | 2 | Thomas Sundling | United States | 74,000 | 25 |
| Miranda | 638 | 3 | David Smart | United States | 153,500 | 51 |
| Miranda | 638 | 4 | Richard Kerbis | United States | 95,500 | 32 |
| Miranda | 638 | 5 | Benjamin Chung | United States | 328,500 | 110 |
| Miranda | 638 | 6 | David McGowan | United States | 81,000 | 27 |
| Miranda | 638 | 7 | Justin Young | United States | 38,000 | 13 |
| Miranda | 638 | 8 | Bill Germanis | Canada | 300,500 | 100 |
| Miranda | 638 | 9 | Jose Obadia | Spain | 99,000 | 33 |
| | | | | | | |
| Miranda | 639 | 1 | Nicholas Immekus | United States | 62,500 | 21 |
| Miranda | 639 | 2 | Andrew Jernigan | United States | 261,000 | 87 |
| Miranda | 639 | 3 | Breixo Gonzalez | Spain | 149,500 | 50 |
| Miranda | 639 | 4 | Joshua Gilkerson | United States | 53,000 | 18 |
| Miranda | 639 | 5 | Julian Stuer | Germany | 155,000 | 52 |
| Miranda | 639 | 6 | Jonathan Oats | United States | 195,500 | 65 |
| Miranda | 639 | 7 | Mark Allen | United States | 143,000 | 48 |
| Miranda | 639 | 8 | Michael Robilotto | United States | 45,000 | 15 |
| Miranda | 639 | 9 | Dara O'Kearney | Ireland | 64,000 | 21 |
| | | | | | | |
| Miranda | 640 | 1 | Elson Pessette | Brazil | 61,500 | 21 |
| Miranda | 640 | 2 | Uriel Remi Levy | United States | 272,000 | 91 |
| Miranda | 640 | 3 | Steven Berkowitz | United States | 213,000 | 71 |
| Miranda | 640 | 4 | Michael Vanderwoude | United States | 96,500 | 32 |
| Miranda | 640 | 5 | Jan Eric Schwippert | Germany | 33,333 | 11 |
| Miranda | 640 | 6 | Larry Jafee | United States | 38,000 | 13 |
| Miranda | 640 | 7 | Alexandre Reard | France | 92,500 | 31 |
| Miranda | 640 | 8 | Victor Chu | United States | 317,500 | 106 |
| Miranda | 640 | 9 | Jonathan Dimmig | United States | 360,000 | 120 |
| | | | | | | |
| Miranda | 641 | 1 | Cameron Glendenning | United States | 190,500 | 64 |
| Miranda | 641 | 2 | Bruce Zhen | United States | 371,500 | 124 |
| Miranda | 641 | 3 | Darryl Ronconi | United States | 272,000 | 91 |
| Miranda | 641 | 4 | Elvis Toomas | United States | 67,400 | 22 |
| Miranda | 641 | 5 | Jonathan Nye | United States | 41,000 | 14 |
| Miranda | 641 | 6 | Kevin Grabel | United States | 56,000 | 19 |
| Miranda | 641 | 7 | Paulo Gini | Brazil | 83,000 | 28 |
| Miranda | 641 | 8 | David Patterson | United States | 121,000 | 40 |
| Miranda | 641 | 9 | Rigoberto Rodriguez | United States | 532,500 | 178 |
Event #23: THE MARATHON - $2,620 No-Limit Hold'em
Ден 3 започнал