Ниво:

16
Блайндове:

2,000/4,000
Анте:

4,000
In a blind versus blind situation, Colin Grunow raised with


and Yake Wu shoved with


, called by Grunow.
It was a typical flip situation and the dealer fanned a board




, giving the winning hand to Grunow with a pair of aces.
The prizepool and payouts have been announced by the tournament staff. With 133 entries making up a prizepool of €73,150, there will be 20 places getting paid. A min-cash will be worth €809 and just like the other flights, the day will conclude after 18 levels or when there are 12 players remaining.
Jan Joergensen opened to 7,00 and David Kurbel shoved from the small blind. Brahim Hajji called all-in for 42,000 and Joergensen folded.
Brahim Hajji:



David Kurbel:


Kurbel was in desperate to win the hand, and conceded the double up to Hajji after the board fell





. Kurbel, left with 6,000 chips, busted a few minutes later.
Konstantin Kirianov moved all-in for his last chips, holding


, and was called by Tung Ho Kim who held


.
The board showed





and Kirianov made his way to the exit.
Emanuele de Lemmi was also eliminated a few moments before.
Ниво:

15
Блайндове:

1,500/3,000
Анте:

3,000
Many players have been seen leaving their seats and will have to try again in another flight to advance to Day 2. The likes of Oleg Pavlyuchuk, Yaron Ben Avi and Refael Dahan have all been eliminated.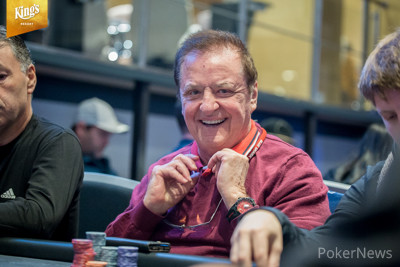 Pierre Neuville open-shoved for his last 17,500 chips and William Kassouf reshoved from the button to create the following showdown:
Pierre Neuville:



William Kassouf:


Kassouf was calling for the cards but didn't find any help on a board





, giving the double up Neuville who raised his arms in the air saying "I doubled up on William Kassouf! I did it!". Neuville added jokingly "Who's the boss now?", which made the table laugh.
The flop showed



in a three-way pot when Anthony Ribeiro first checked and Balazs Bistei bet 10,000. Dor Sharon called from the button and Ribeiro raised to 25,000. Bistei called and Sharon tanked a minute and shoved for 27,500. Both Ribeiro and Bistei completed.
Ribeiro and Bistei checked throughout the

turn and

river and the tabled revealed their cards. Sharon tabled


for a set of tens and Ribeiro showed


while Bistei mucked.
Ниво:

14
Блайндове:

1,000/2,500
Анте:

2,500